US primary elections: Dr Oz tied with McMcCormick in test of Trump's influence on Republicans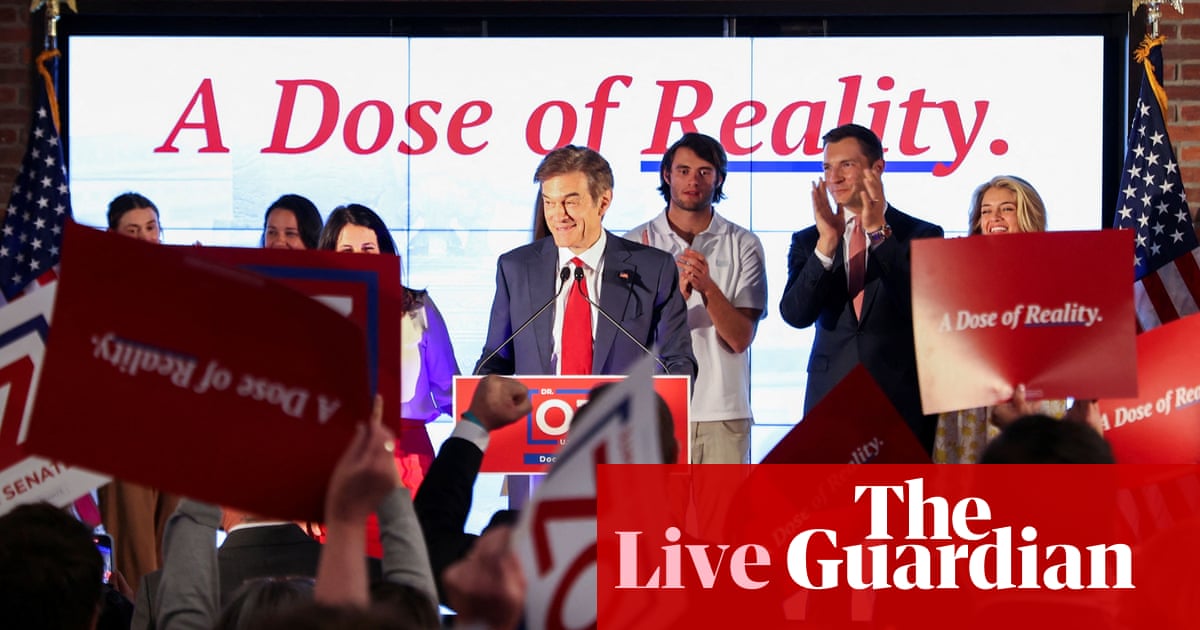 The Republican primary for Senate in Pennsylvania between heart surgeon-turned-TV celebrity Mehmet Oz and former hedge fund CEO David McCormick remains neck-and-neck, with thousands of absentee ballots still left to be tallied.
Jake Sullivan, national security advisor, took to the podium today for the White House press briefing to preview the meeting tomorrow between Joe Biden and the president of Finland and the prime minister of Sweden. This comes as these traditionally neutral countries submit their applications for Nato membership.
Sullivan also previewed Biden's first trip to Asia as president, in which he will be visiting South Korea and Japan, and meeting with the South Korean president and Japanese prime minister. Biden will not, however, be making a visit to the DMZ this trip.
Biden visited Joint Base Andrews in Maryland to receive a briefing from his senior leadership team on efforts to prepare for and respond to hurricanes this season.
The House is moving on the nationwide infant formula shortage, with two bills scheduled for a vote tonight. In addition, a bipartisan group of 20 members is urging the president to invoke the Defense Production Act to boost formula production.
First daughter Ashley Biden has tested positive for Covid-19 and will not be traveling with the first lady, Jill Biden, to Ecuador, Panama and Costa Rica.
Congresswoman Lucy McBath made an impassioned pro-choice speech on the floor today in the aftermath of the leak of a draft opinion that essentially strikes down the protections enshrined by Roe v Wade.
McBath spoke about the trauma and heartbreak of suffering three miscarriages, and how the treatment for miscarriage sometimes requires the same abortion drugs that some states and pro-birth activists are advocating to make illegal.
"It's hard to describe the agony of a miscarriage: its heartbreaking, its helplessness, its pain, and its profound sadness," McBath said. "Millions of women suffer from them, and I've heard from many who felt guilty like I did, who felt as though we weren't worthy of having a child. Those are the same feelings that crept through my mind and every time I've had these difficult discussions with other women, I remind them that they are strong and they are powerful beyond measure and their worth is far more than their ability to procreate, however it may seem that those in support of this ruling may disagree."
McBath's voice cracked as she described the circumstances of her third miscarriage: a stillbirth.
"My doctor felt it would be safer to end the pregnancy naturally," she said. "For two weeks, I carried my dead fetus and waited for to go into labor. For two weeks, people passed me on the street, telling me how beautiful I looked, asking how far along I was, and saying they were so excited for me and my future with my child. For two weeks, I carried a lost pregnancy and the torment that came with it. I never went into labor on my own. When my doctor finally induced me, I faced the pain of labor without hope of a living child."
She ended her testimony by declaring that though this was uniquely her story, her story was not unique. "Millions of women in America, women in this room, women at your home, women you love and cherish, have suffered a miscarriage
"So I ask, on behalf of these women, after which failed pregnancy should I have been imprisoned? Would it have been after the first miscarriage, after eoctors used what would have been an illegal drug to abort the lost fetus?"
"Would you have put me in jail after the second miscarriage, perhaps that would have been the time, forced to reflect in confinement at the guilt I felt, at the guilt so many women feel after losing their pregnancies. Or would you have put me behind birth after my stillbirth, after I was forced to carry a dead fetus for weeks?"
McBath continued: "The same medicine used to treat my failed pregnancies is the same medicine that states like Texas would make illegal. I ask because if Alabama makes abortion murder, does it make miscarriage manslaughter? I ask because I want to know if the next woman who has a miscarriage at three months, if she will be forced to carry her dead fetus to term."
Stephanie Grisham, the former White House press secretary and chief of staff for Melania Trump, is reportedly appearing again today before the House select committee tasked with investigating the 6 January attack on the US Capitol.