Stefanik's echo of 'great replacement' rhetoric offers clues to her national ambitions — and her changing district
Those hard-liners will be keeping close tabs on her performance as she jockeys with a field of hopefuls for the whip job that is widely perceived to include National Republican Congressional Committee Chairman Tom Emmer, R-Minn., Republican Study Committee Chairman Jim Banks, R-Ind., and Rep. Drew Ferguson, R-Ga.
One House Republican colleague said Stefanik is following two constituencies in adapting her political profile: voters in her district and the GOP lawmakers who cast ballots in leadership elections.
"I would think it's because of her district — it's gotten more conservative, Trumpy," the lawmaker said. "And then I think her leadership position, I would say our conference would be more prevalent toward the conservative Trumpy side than not."
Last week, she accused President Joe Biden of working with pedophiles to help his party politically by denying Americans baby formula, while providing the staple to undocumented immigrants — a possible reference to a QAnon conspiracy theory about a global ring of child sex traffickers. Her office later told The Independent that her "pedo grifters" tweet referred to The Lincoln Project, an anti-Trump political committee that nearly imploded when a founder was accused of sending sexually explicit messages to underage boys.
"She has become such the perfect avatar of modern-day Republican politics — unapologetic, fighting, hip with the latest talking points that the far right is using," said Brendan Buck, a former House GOP leadership aide who worked with Stefanik on the Romney-Ryan campaign.
Pressure on the home front
Russ Finley is one constituent who has celebrated — and possibly helped bring about — Stefanik's transition.
Finley, 57, runs a small beef farm near Lisbon. A Democrat and a member of the U.S. bobsled team earlier in his life, he returned to St. Lawrence County in adulthood, embraced conservative values and took up farming. In 2017, he launched an unsuccessful longshot bid against Stefanik, accusing her of not adequately supporting Trump.
But by early 2020, when Stefanik served as part of the defense team in Trump's first Senate trial, Finley became convinced she had taken the hint from her Republican constituents.
"When she first came in, she was bright and young and hard-working and amiable. But I knew she was going to have to change; she wanted to be a moderate, wanted to be liked by everybody, had some success with being bipartisan," he said. "But over the course of time, she went the way the district has gone. It's not that she got pushed to the right, it's that she followed the wants and needs of the people in the district, as an elected official should do."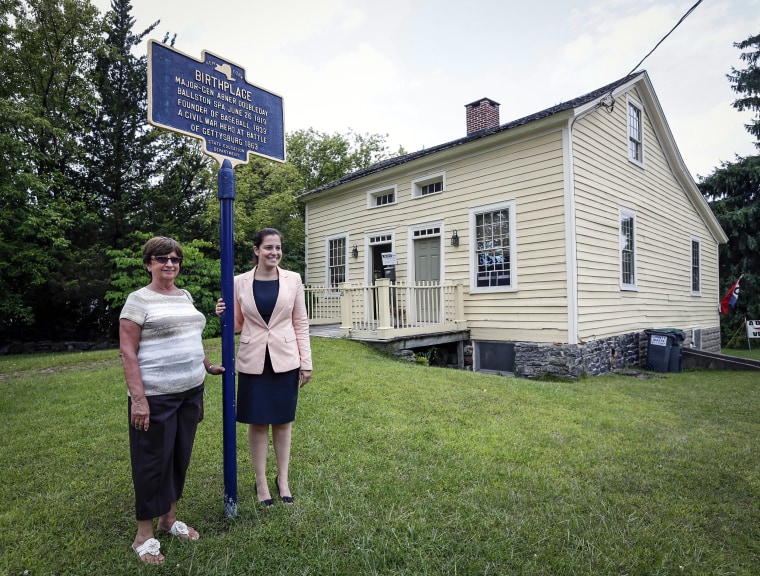 More popular than Trump
Stefanik's shift has been rewarded at the ballot box, where she has handily won re-election four times, each with substantial margins. She outpaced Trump twice, even as he easily carried the district in 2016 and 2020. President Barack Obama won the district in 2008 and 2012.
Some voters made clear their own rightward movement included supporting hard-line immigration positions — but rejected the notion their views relate to race.
"How can you have illegal immigrants come in here, skip the line, not knowing anything about this country?" said Stella Nelson, a retired insurance agent from Ogdensburg. "They keep coming, and it's going to affect us all sooner or later."
Finley, meanwhile, bristled at what he says is as a conflation of immigration policy and racial tension.
"It's not white versus brown or Black. It's legal versus illegal," he said.
Both voters said they were willing to give Stefanik a pass on her support in 2021 of a bill that would ease the pathway to citizenship for undocumented farm workers.
For many Republicans here, illegal immigration — particularly from Latin America — isn't a pressing issue. While the district shares more than 100 miles of border with Canada, it is about 2,000 miles from the closest spot on the U.S.-Mexico line. That helps explain why some of Stefanik's constituents are willing to give her leeway on immigration as she tries to rise in House leadership.
"There's a situation on the southern border. We know that as a mostly white community, it doesn't necessarily affect us. But we are also very aware that she has it on her radar, and I think it's an impressive thing that she is a leader on it in a way that she feel is going to help us all," said Connie Elen, the chair of the St. Lawrence County Republican Committee.
Stefanik's stances on immigration are nuanced. But where she agrees with hard-liners — and when she can try to turn the issue into a partisan attack against Democrats — she has grown more aggressive. That's paying dividends in her district, and it could make conservatives in her conference more comfortable with promoting her next year.
"She's climbing the ranks, she's under the microscope more," said John French, a prison guard from Norwood. "There's pressure on her."