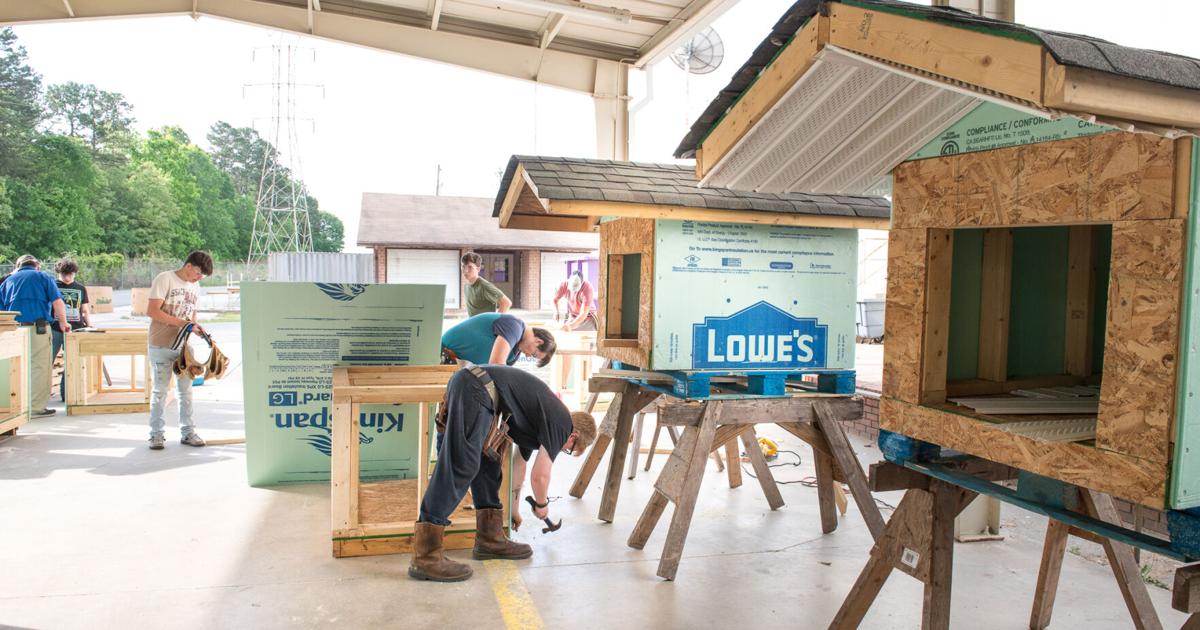 LINCOLNTON – The Lincoln County School of Technology is always a busy place with students learning different skills and crafts that'll help them in the real world after graduation. Students attending the construction classes offered through the school have been particularly busy lately making dog agility equipment and installing it at the Motz Avenue Dog Park in Lincolnton. Led by carpentry instructor Clay Ledford, students constructed two sets of A-frame ramps, three-tiered jump bar sets, stairs and ramp climbers, and leash posts for the small and large dog areas of the dog park.
"When the dog park idea came around, we jumped on it," Ledford said. "We like to get the kids involved in community service. Building something different from the norm is what intrigued me the most. We talked with Mr. Eurey and he brought me some designs. We then came up with a price for the materials."
The students started out with the design phase, getting all of the math and geometry worked out. Then the building started. Each student had a different component that they worked on. The equipment was installed on site which got the students out of the classroom.
The Carpentry 1 students also make dog houses throughout the season which are constructed just like mini houses and sell for $150 which is a bargain given current material costs and the work put into the construction. The other construction class makes Adirondack chairs in three different styles and swings, all of which are for sale through the school of technology.
"Quite a few of our students end up under the umbrella of construction after they graduate," Ledford said. "A lot of the skills that they get here, whether they go into carpentry or not carry over into industry like ruler reading, problem solving, geometry, creativity – all of those things carry into other industry. Construction is a great trade to get into."
This is the second construction class that Lathon Sain, currently a senior, has taken through the school of technology. He expects that he'll do carpentry work on the side after he graduates.
"Making the dog park equipment was fun," Andrew Couteller said. "I felt like we needed more given the size of the property. I'll most likely get into construction when I graduate. I'm good at it."
Gage Etherieg thought that making the dog park equipment was a great opportunity.
"There's not a lot of places that you can get that hands-on experience and not have to pay for it," he said. "I was really appreciative of it. I'll be taking my third construction class next semester. My entire family has been in the construction business. I plan to go to college for construction management."
Those students are enrolled in the Carpentry I class who made the dog park equipment include Samuel Gilbert, Andrew Couteller, Michael Boyce, Gage Etherieg, Lathon Sain, Nate Perry, Isaac Kiser, Cole Sammons, Holden Croft, Dalton Ware, Abram Ruiz, Jose Santos, and Tokel Boyd.
For more information on purchasing dog houses, chairs or other items that students at the Lincoln County School of Technology make throughout the year, call 704-732-4084.