Rishi Sunak defends letting second home owners get £400 energy bill rebate twice
Cummings was one of the people who helped to trigger the police investigation by revealing in January that No 10 held a party for staff in the garden on 20 May 2020 despite Cummings warning that it would be against the rules.
But most of the events investigated by the police took place after Cummings left No 10 on 13 November 2020.
And here is a full summary of what Boris Johnson said in his pooled TV interview in Stockton-on-Tees.
Johnson described the measures announced by Rishi Sunak yesterday as a "big bazooka" but conceded it would not "fix everything for everybody". (See 12.47pm.)
He said he was confident Tory MPs would continue to back him. Asked if he was confident that he had enough backing in his party to survive, given that more MPs are calling for his resignation following the publication of the Sue Gray report, he replied:
Yes, but I think I gave some some pretty vintage and exhaustive answers on all that subject the other day in the House of Commons and then in a subsequent press conference .
He rejected claims that there was now no difference between Labour and the Tories on tax and spend. This has been a charge levelled by Tory commentators. (See 12.36pm.) Asked to explain the difference between the two parties, Johnson replied:
Very simple. When it comes to this particular policy, it's much more generous [than Labour's proposal]. This gives a £1,200 for every 8 million households.

But what it also does is, the levy is designed so that companies can offset investments that they're making in new energy supply, or in green technology, to the tune of 91p in the pound.
Johnson was wrong on this point. The investment allowance is just for investment in oil and gas extraction.
He defended the decision to make the extra support for people time limited. It was designed to get people through the difficult period until inflation went down, he said. After that the economy would be in a strong position because of high employment, he said.
The reason we're going to be a strong position is because we have so many people in work giving us the tax base we need to look after everybody else.
He said that he did not think the measures announced yesterday would add to inflation because they would not trigger more discretionary spending. This was slightly different from the answer Sunak gave when he was asked about this earlier; he said the impact would be "minimal", adding to inflation by less than 1%.
He refused to follow Sunak in saying he would donate his £400 energy bills grant to charity, saying that because he lived in a government flat, his arrangements were different. Asked if he would do what Sunak was doing, he said: "I think my arrangements are different because I live in a government flat," he said. It is understood that Johnson does make a contribution to the utility bills for his grace and favour flat at Downing Street, but he is not a conventional tenant. He also owns a home in Oxfordshire, which is understood to be rented out, and he is the joint owner, with his wife, of a house in London. These properties should benefit from the £400 grant too, but it would go to whoever pays the electricity bill.
A colleague who answered the phone at Paul Holmes' constituency office said the MP had nothing further to add when asked if he was calling for Boris Johnson to resign, PA Media reports. Holmes has resigned as a PPS over Partygate. (See 1.01pm.)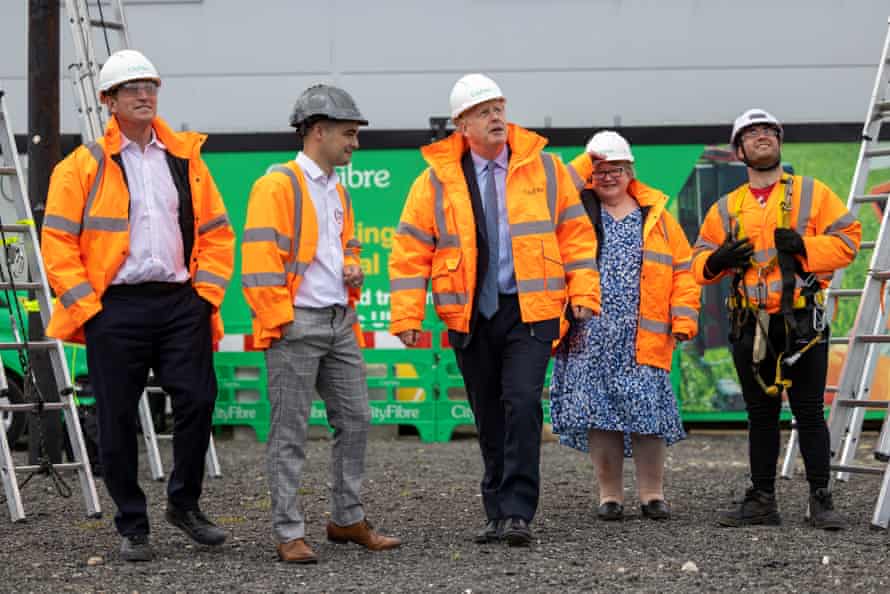 In his Bloomberg interview, Boris Johnson said he did not accept that the UK was inevitably heading for a recession. My colleague Graeme Wearden has the details on his business live blog.
The Conservative MP Paul Holmes, who represents Eastleigh, has announced that he is resigning as a parliamentary private secretary in response to the revelations in the Sue Gray report.
Holmes, who was elected in 2019, was PPS to Priti Patel, the home secretary. A PPS – an unpaid ministerial "bag carrier" – is not a member of the government, but is considered part of the "payroll vote" and obliged to support the government in all divisions. Being a PPS is normally a stepping stone towards becoming a minister.
Explaining his decision in a statement, Holmes says:
Revelations from the Sue Gray report that staff and cleaners were not treated properly is both disappointing and unacceptable. It is right that the prime minister apologised to staff. It clearly showed a culture in No 10 that was distasteful, and I am glad that there have been several reforms that Sue Gray has welcomed.

It is clear to me that a deep mistrust in both the government and the Conservative party has been created by these events, something that pains me personally as someone who always tries to represent Eastleigh and its people with integrity. Whether that is taking up your issues in parliament or helping people with their problems closer to home, since 2019 we have completed over 12,000 pieces of constituency casework. It is distressing to me that this work on your behalf has been tarnished by the toxic culture that seemed to have permeated No 10.

Over the last few weeks this distress has led me to conclude that I want to continue to focus solely on my efforts in being your member of parliament and the campaigns that are important to you. That is why I have now resigned from my governmental responsibilities as a parliamentary private secretary at the Home Office.
In his statement Holmes does not say whether or not he has written, or will be writing, to Sir Graham Brady, the chair of the 1922 Committee, asking for a no confidence vote in Boris Johnson.
It was reported earlier this year that Holmes was very unhappy about Partygate, but as a PPS he was not meant to speak out against the PM in public.
Boris Johnson has recorded a pooled clip for broadcasters which has just been shown on Sky News. In it he described the measures announced by Rishi Sunak yesterday as a "big bazooka", but he conceded that it would not "fix everything for everybody". He said:
I'm not going to pretend that this is going to fix everything for everybody immediately. There are still going to be pressures. But it's a very, very substantial commitment by the government to getting us through what will be, I'm afraid, still a bumpy time with the increase in energy prices around the world.
I will post more from the interview shortly.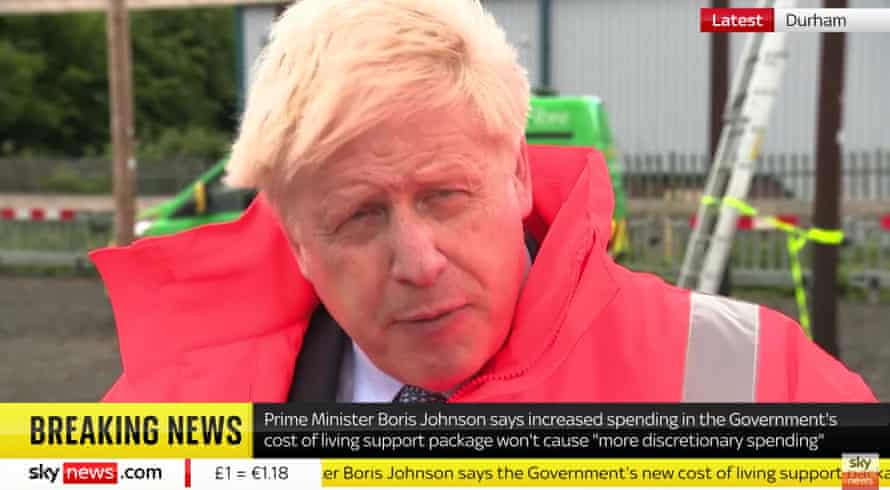 Earlier I pointed out that Rishi Sunak's cost of living support package does not seem to have impressed the Tory-supporting papers whose approval the government normally craves the most. (See 9.34am.) This is what some of them are saying.
The Telegraph in its editorial says Conservatism is in a dark place following Rishi Sunak's announcements yesterday. It says:
The party has no future as a "moderate" proponent of the social democracy and socialism also promoted by the other parties. The Tories will never be able to win a contest with the Left on who can spend the most. The billions Mr Sunak showered on households today were predictably dismissed as insufficient by his opponents. It seems likely that pressure will build on the Chancellor to come back with even more support later in the year. Worse, every time the Government surrenders to the Left in this way, it does so at the expense of Tory voters. Chasing popularity is a foolish endeavour, if the result is to legitimise the arguments of your political rivals while damaging your own core supporters.

The suspicion must be that the only real purpose to the Chancellor's announcements was to distract attention from the partygate saga. If so, it was bought at a high price. Taxpayers and investors in energy firms will bear the immediate cost. But in the longer term, it may well be the Conservative Party that turns out to be the biggest loser.
The Daily Mail in its editorial is more positive, but it has concerns about the measures too. It says:
It is the sort of colossal redistributive programme more associated with socialism than conservatism, and there are very real fears it will push inflation even higher.

The Daily Mail would not normally support such massive giveaways and we have serious concerns about this one.

These are not normal times, however. Our poll last week showed how much families are suffering and how strongly they support the windfall levy. But tax and spend splurges like this cannot become a habit. They discourage investment, threaten jobs and restrict growth.
Fraser Nelson, the Spectator editor, says in his Telegraph column that Sunak has put the country on the road to recession. He says:
After years banging on about the moral case for low taxation – the quaint idea that societies are fairer and stronger when people are allowed to keep more of the money they earn – the Tories have now given up. Handouts are preferred to general tax cuts, allowing the state to choose winners and losers. Ed Miliband's old idea about good and bad companies (the "predators") is now back. Taxation is spoken of in moral terms: a tool to serve justice to stubborn companies making "excess" profits …

The big problem is growth, not inflation. The price spike is hideous, but it will be temporary. When it dissipates, a bigger issue will remain: an economy that is barely moving, and the UK could tip into recession at any time.
Camilla Tominey in the Telegraph says Rishi Sunak adopted "Labour-lite" policy. She says:
In neglecting to come up with any relief for businesses, the Chancellor once again found himself in the bizarre position of being out-Toried by … the Labour party.

It was left to Ms Reeves, of all people, to point out that a better solution might have been to "spike the NI hike" and cut VAT for businesses. Conservatives were similarly at pains to point out that adding to the highest tax burden since the Second World War instead of tackling the green levies that push energy bills up in the first place was hardly Lawsonian (the Chancellor has a portrait of his tax-cutting predecessor above his desk).
The Sun in its editorial congratulates Sunak on the announcement, which it says was "badly needed". But it also warns about taxation and borrowing being too high. It says (bold in the original):
The highest burden in 70 years is suffocating the economy.

That IS un-Conservative.

Third, and worst, is the danger that a nation kept afloat by borrowing £400billion during Covid, and now bailed out again, starts to believe a Corbyn-style "magic money tree" really CAN cushion them from the harshness of reality.

That delusion leads to a bankrupt Britain. Mountainous debts must be repaid.
But Chris Bryant is not resigning as chair of the Commons standards committee, I'm told.
For many years the Commons had a single standards and privileges committee which dealt with complaints of misconduct against MPs (standards) and matters relating to parliamentary privilege (the rights of MPs, and misconduct that might amount to contempt of parliament). But, after the expenses scandal, the two committees were split in 2013 because lay members were added to the standards committee (so that it was not just MPs ruling on complaints against MPs) but not to the privileges committee
Since then generally the same MPs have sat on both committees, with the same MP chairing both.
Chris Bryant has announced that he will stand down from the Commons privileges committee, which he chairs, next month so it can replace him with another Labour MP before it starts its inquiry into whether or not Boris Johnson knowingly misled MPs in what he told them about Partygate.
Bryant is standing down because he has publicly accused Johnson of lying to MPs on several occasions in recent months, and so he accepts that he would not be seen as an impartial chair on this matter.
His announcement last month that he would recuse himself from this investigation helped to lessen Conservative party opposition to the idea of a privileges committee inquiry going ahead. The day after Bryant said he would not lead the inquiry, government whips abandoned attempts to force Tory MPs to vote to block it going ahead because by that point they were no longer confident of winning the vote.
In the Telegraph Tony Diver reports that Harriet Harman, the former deputy Labour leader and mother of the house (the longest-serving female MP) is being lined up to take Bryant's place on the committee. "Harman, the MP for Camberwell and Peckham, is understood to be happy to be placed on the privileges committee, while Conservatives on the panel have provisionally agreed that she would be elected chairman," Diver reports.
In his statement in April Bryant said that, although he would recuse himself from the Johnson investigation, he wanted to remain chair of the privileges committee and remain in charge of its inquiries into other matters. But leaving the committee for good will probably provide more of an assurance to Tories.