Parker says goodbye to politics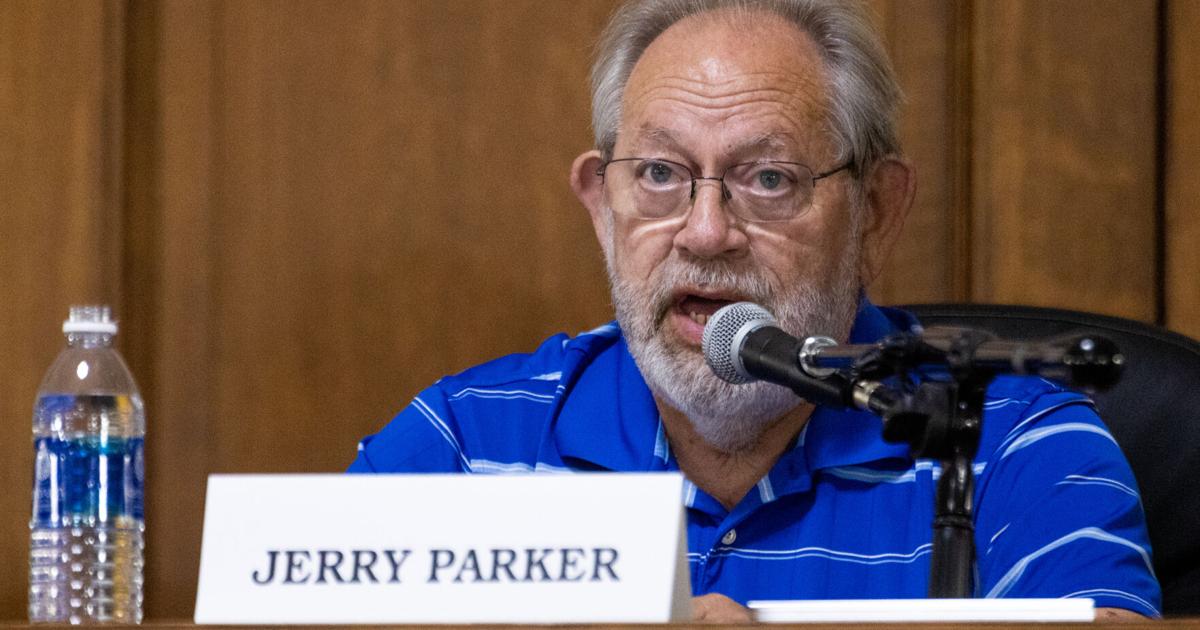 One could sense the history in the tucked-away office inside the Wapello County Courthouse.
The five filing cabinets with years of information; the framed mementos featuring press clippings writing off a T-shirt-wearing, black-bearded 30-something; the list of those who donated money to end his political career almost 30 years later.
In a way, Jerry Parker kept it all for almost 50 years — the good, the bad and the ugly. In January, it'll be someone else's office.
"I've never heard the guy lie. Almost to a fault," said county supervisor Brian Morgan, who has served with Parker since 2017, but has known him most of his life. "There's an honesty about him. Just the investment he put into this county for the 50 years."
Yet, it's over. He's leaving willingly, proud of the things he accomplished, first working for and serving the City of Ottumwa, then as a supervisor, where he's spent about one-third of his life.
He's also leaving because a new generation of voters decided it was time for change; Parker acknowledges that those who first voted for him in his first notable attempt at elected office in 1973 stayed with him to the end, but those numbers are decreasing rapidly. In the end, his bid for a seventh term of supervisor was a lopsided loss, his first as an incumbent in any capacity.
"I didn't cry about it, and I always believe God has a plan," he said last week of his defeat last month. "So I had prepared my family in case of a loss. I said, 'No, I'm not going to cry. But what I'm going to do is say thank you God for the past 50 years.'"
Into the ring
Parker had worked in the city's engineering department from 1967 until the early 1970s, when the late Paul Troeger, a household name not only as a state representative, but also as a parks commissioner and community leader, encouraged Parker to run for his seat. At the time, department heads were also city council members.
"He was an unbeatable guy, been a state legislator three or four terms, an agricultural teacher at the high school for like 40 years," Parker said. "But I'd helped him in the parks department through the engineering department, and we drew up things like sewers and stuff.
"Then he said, 'When I quit, I think I'd like to have you take over, Jerry,'" he said. "I was like 27 years old. I thought Paul was telling me he was quitting. I went and took out my papers, but he hadn't taken his out. Some of his friends said, 'This guy is too young. You don't have to do anything. You'll just automatically win."
In the end, the unbeatable was beatable. Parker scratched out a 125-vote victory over Troeger, essentially beginning a political career that began in 1974.
"The awkwardness (of running) was that it was my first real attempt," Parker said. "I mean, you're going to be voting on things. That was the difficulty of it."
Even then, Parker credited his experience in the engineering department, and also willingness to foray into areas he wasn't familiar, to carry him the rest of his career.
As parks commissioner, Parker was instrumental in creating the neighborhood parks, the Jimmy Jones Shelter and the baseball and softball fields in Greater Ottumwa Park, all under the umbrella of "Parker For Parks." It was his slogan that would lead to more wins.
Going for the top job
Parker decided to take a run for mayor in 1981, again trying to unseat an incumbent. However, it was a loaded field that featured a state representative, the city's finance director and a railroad detective.
Then there was incumbent Dale Gottschalk, who passed away earlier this year.
"The primary was a tough one. There were like seven of us," Parker recalled. "Dale and I ended up being finalists. Dale's people had told him, 'Jerry can't reach you. You're the suit-and-tie guy, and he's a T-shirt and tennis shoe guy. Just don't mess it up.'"
However, Parker made himself the public face for the job, and he believed that helped him pull out a 94-vote win in the first of his three terms as mayor.
"We had a budget appeal with the state, and instead of the mayor handling it, I did," he said. "Dale gets down to about a week to go, and all they are seeing is Jerry. They put all their eggs in one basket on the debate and it fell hard for him.
"We shouldn't have won. He was the incumbent," he said.
Living for the city, and the common folks
Parker has always projected himself as a voice for the common person. While mayor, he walked the picket line with Hormel workers in 1987.
"I marched down Iowa Avenue with probably 3,000 or 4,000 people. I marched to the gate, but the average person was like, 'Mayor, you shouldn't be doing this,'" Parker said. "I said, 'No, I had one opportunity in my life. These people's moms, dads, grandpas, grandmas, aunts, uncles. … they supported Jerry Parker forever in the elections.'
"You usually don't usually get a chance to pay somebody back," he said. "This wasn't going to cost me my mayor's job, because I'm not going to run again. I knew I had split the community, but I owed it to those people."
In the background, changes were brewing in the city government structure, in a sense the "Jerry Parker Rules." In his first run for mayor, they tried to get rid of him by making the council part-time, but he won the mayor's race. Then, the city switched to a part-time role for the mayor in 1988, but he had resigned at the end of his third term.
"If I had run for mayor, I couldn't have worked in the engineering department. I had been off my engineering job for 14 years, and things had changed," he said. "The engineer and the city administrator didn't want me back, so I filed a grievance and won that, and the city had to pay back pay." He would go back to the parks department for a year.
During his time as mayor, he also was a key in creating the Jefferson Drainage Ditch along Mary Street. The project created five ponds that rainwater would filter into so homes on the south side of the city wouldn't flood.
"I get questions on a regular basis about the city, and they know I'm not with the city," Parker said. "But I've been them point them in the right direction."
From the city to the county
Steve Siegel remembers what drew Parker into running for a seat on the Wapello County Board of Supervisors in 1998, after being mostly out of the political arena for almost a decade.
"I always tell Jerry that I beat him on the Wapello County Jail," Siegel chuckled, bringing up the one issue that spurred Parker into a second act in politics.
Indeed, the idea of building a new jail essentially in the courthouse parking lot was not enticing, but a new facility had to be built. Instead, the Wapello County Law Enforcement Center was built at its current location.
"I wasn't against a new jail, but I was against putting it here," Parker said. "The first thing after I won the election was redesign it by cutting a million dollars out of it.
"That was the issue that got me back in."
Siegel and Parker didn't always see eye to eye despite both being Democrats. Siegel's stances didn't always match up with Parker's, but he never lost respect for him.
"Jerry is consistent and he's honest. He believes in what he's doing," he said. "We had some disagreements, but we got along pretty well. He doesn't go along with a lot of traditions, and I think that might be why some might dislike him."
Parker then had a run-in with the law, pleading guilty to accepting bets under $100 in 2004. His plea was part of a larger gambling ring that included former Ottumwa Regional Health Center president Michael Feinstein.
"I'd done this for years, and everybody knew I did it," Parker said. "No one was going to do anything about it. I lost friends because of this because some of them would owe me some money. I pled guilty because I was. I'm not going to lie about it, but it was a real learning experience."
If anything, Parker's plea made him stronger. He won his next supervisor election by a larger margin than the first.
As a supervisor, Parker and Siegel were instrumental in developing the local food distribution program, as well as the American Gothic House Center and Ottumwa Job Corps.
All along, Parker had contacts with politicians at the state and federal levels. That was the case with the Job Corps, which Parker said is one of his most rewarding achievements. He flew to Washington, D.C., and sold the idea to then-Sen. Tom Harkin.
"People think badly of Job Corps, thinking we're just bringing in a bunch of troubled kids to the community," Parker said. "I said, 'No, let's take a year and talk to every group we can about it is, and make sure everybody knows.
"I told Senator Harkin that every nine months, 300 of them are turned around and become productive citizens. Ninety percent of them will make 60% more than the minimum wage. The other 10% go into the military and go on to higher education."
Parker said then Harkin was sold.
"He said to his staff, 'Go to work on this.'"
The Bridge View Center
A long sheet of paper hangs on his office wall of all the entities that donated against Parker because of his vehement opposition to the Bridge View Center. In all, $26,000 was raised against him, some of that coming from well-heeled sources.
Despite his opposition, the events center was built, something that to this day bothers him. Siegel was for it, but also could see the potential pitfalls of the project moving forward.
"The majority of the people adamantly supported it," Siegel said. "That list on his wall is funny because some of those people sometimes would come in the office years later and see their name up on the wall.
"He had strong opinions and sometimes they were a bit unorthodox," he said. "I think people perceived him as opposed to progress, but I never saw him that way."
Parker's rationale was that the center would be a money-loser.
"I had said it would lose $300,000 to $500,000 a year and that we shouldn't be doing it," he said. "Unless we had guarantees they're going to cover the losses. They've never covered the losses, and I knew they wouldn't."
Morgan said the Bridge View Center was when the dislike reached its fever pitch.
"The hatred of Jerry was at an all-time high," he said.
Mixed feelings
Almost any time the words "Jerry Parker" are uttered, they conjure up emotions of one side or the other, but not a lot of neutrality. Parker knows this, as do his supervisor colleagues.
"This guy is smart and he knows his stuff. He won't stab you in the back, but he also won't sugarcoat anything," Morgan said. "I love hearing the stories of old. Dale was probably Jerry's top political rival in the 1980s and 1990s, and I can respect that. They did a lot to try to get him out of office.
"There are things I don't always agree with him on, but a majority of the things I did," he said. "He's always for the common person. The Jerry Parker that people don't see is just his involvement in the community. Even when he's out of office, he'll still be there."
Former Ottumwa mayor Tom Lazio, who is close to Parker's age, said he had a good relationship even if one represented the city and the other the county.
"Our kids ran track together, and we've always had a cordial relationship," Lazio said. "When I got into politics, he was always gracious and helped us. He's always willing to look at the common good.
"He was just always willing to go the extra mile. He always wanted to do what was right for the community."
Parker has his own explanation for why he produces emotions in people.
"I think it's because I've never tried to persuade people that I'm a good guy. What I tried to do is tell them where I stand, and I think they respect the fact that I can help them," he said. "But they don't necessarily like the way I did it."
The legacy
Maybe the biggest voids to fill when Parker leaves office are his ability to talk about complex topics in layman's terms, but also the cachet he commanded on behalf of the city and the county on a state and federal level.
Most of what he's learned was simply by doing; by jumping in with two feet and determining if he'd sink or swim.
"When I was a kid, Davy Crockett was a big thing on TV," Parker said. "And he had a saying, 'Be sure you're right, then go ahead.' Now you can't be sure you're right, but what you can do is be sure you're doing it because you think it's right, not because someone else told you it was.
"I've tried to live by that."
Parker said he will miss the office because he won't be going to work every day. He acknowledged that working for the county has been more enjoyable than the city because he can see the immediate impact of the decisions he makes.
"You know, I don't have any other life. I don't go play golf, hunt or fish," he said. "I can't wait until Monday when I get to go the office. This is my golf game. This is my fish. This is my vacation right here.
"My regret is that I won't get to be here," he said. "There are things that are unfinished. But we have the best system in the world because the people the public wanted in there will be there. For almost 50 years they've let me represent them, and now they picked someone else. How can I complain about that?"
Morgan can already see Parker's last day.
"I'm probably going to be emotional his last day, because you learn something new every day," Morgan said. "When I was on the city council, Jerry was the first person I'd call. We're going to lose a lot."
"I think the community is going to miss him more than they know," Siegel said. "He had the tools to make lives better."