Our Out-of-Control Political Moment Has Been Joined to Our Insane Attraction to Firearms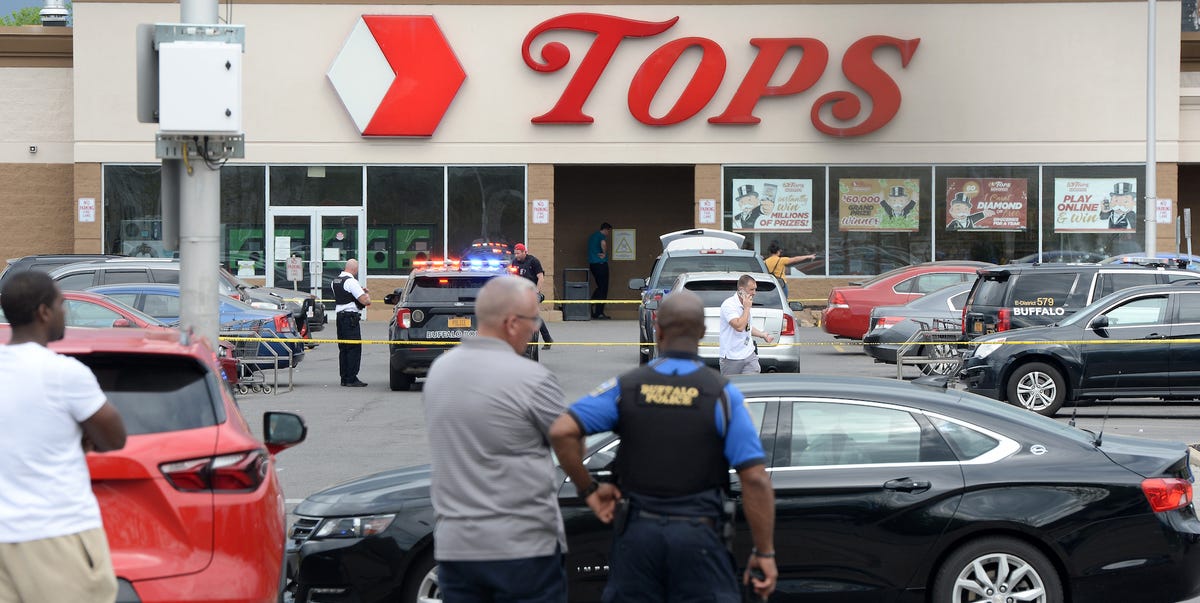 Do not be alarmed, but I suspect that the Tree of Liberty is dangerously close to being overly refreshed, and not with the blood of patriots and tyrants, either, but rather with the blood of ordinary folks celebrating a basketball game, or people going to church on Sunday, or some just stopping in to pick up last-minute provisions for Sunday dinner. Ordinary people, living ordinary lives, until they weren't anymore.
Milwaukee: None dead, 21 wounded.
Laguna Hills: One dead, five wounded.
Buffalo: 10 dead, three wounded.
And how was your weekend, America?
This country has gone to Bedlam and lost its way back. Decades of making sure that Americans are armed to the teeth, and decades of making sure that it was easy to set one subset of citizens against another, have now combined to make a madhouse of the world's oldest representative democracy.
Three mass shootings in three days.
From the Milwaukee Journal-Sentinel:
A 16-year-old girl and two men, ages 29 and 26, were shot near the corner of North Martin Luther King Drive and Highland Avenue. A 19-year-old man was arrested. Then, about 10:30 p.m., a 20-year-old man was shot and injured on Water Street near Highland Avenue. That prompted an "all-city assist" meaning every available officer responded downtown to deal with the crowds and the attention from the shootings, Waldner said. "It just drew more people to the area," she said of the shooting.
That shooting did not appear to be connected to the third shooting which left 17 people wounded and took place at the same location, Waldner said. Five of the people who were injured were armed and taken into custody, she said.
Reporters in this country must take great pains to distinguish between three distinct incidents of mass gunfire of a Friday night. That is where we are in the madhouse that America has become.
Of course, the Buffalo supermarket massacre drew most of the attention. The body count was the highest and the suspect, Payton Gendron, who was taken into custody alive, is a walking advertisement for violent right-wing extremism, marginally coherent manifesto and all. He's an 18-year-old who drove 200 miles to kill people who never did anything to him, except be where Payton Gendron, in the wisdom of his 19 years, thinks they shouldn't be. Which is to say…America. From the Buffalo News:
"It was straight up, a racially motivated hate crime," Erie County Sheriff John Garcia said. "This person was pure evil." Of the 13 people shot, 11 were Black and two were white, Buffalo Police Commissioner Joseph Gramaglia said. "We have evidence in custody right now that shows there is some racial component to these actions," Erie County District Attorney John J. Flynn said.
Payton Gendron, who officials said traveled "several hours" claimed in a 180-page diatribe that he was "radicalized" on the internet while he was bored during the early days of the pandemic, not by any people he has met personally. Through his "research," the self-described white supremacist and anti-Semite came to see low white birth rates around the world as a "crisis" that "will ultimately result in the complete racial and cultural replacement of the European people," he wrote.
According to the manifesto, as reported by the New York Post, Gendron planned this thing right down to his breakfast order for his big day.
Investigators believe the manifesto is authentic and matches key personal details of the suspect and how the crime unfolded, law enforcement sources told The Post. They are still waiting to get a computer owned by Gendron, the sources said. He said he started planning the attack in January and chose the Tops Supermarket in Buffalo because "it has the highest black population percentage" by Zip code and it wasn't far away from his Southern Tier home.
A section of the manifesto details his step-by-step plans for the day, including the corned beef hash he would eat for breakfast, how he would drive to Buffalo and scout out the supermarket, the way he would wear his body armor and carry his gun and how he would post a livestream online. He allegedly carried out the attack at 3 p.m. instead of the planned 4 p.m. [Gendron] also stopped his attack before a planned rampage through the neighborhood.
The one thing about the manifesto that is completely coherent is the fact that Gendron has drunk deeply of the paranoid wormwood popular on the American right. It is peddled by mainstream Republican politicians like Rep. Elise Stefanik, the third-ranking Republican in the House, and by mainstream conservative commentators like Tucker Carlson. The Great Replacement is now as significant a part of the GOP platform as deregulation and supply-side economics. Not that it's a particularly new formula. Old dog, as the late Molly Ivins once put it, still hunts. From the Washington Post:
But while the great replacement theory has inspired horrific violence in the past five years, it's a lot older than that. More than 70 years ago, a U.S. senator published a book warning of the same destruction of White civilization. Theodore G. Bilbo, a Democrat, had twice been governor of Mississippi before he served in the U.S. Senate from 1935 to 1947, when "the growing intolerance among many whites toward public racism and anti-Semitism" led to his fall, according to an account in the Journal of Mississippi History.
Bilbo saw an existential threat in the growing ranks of American-born descendants of enslaved Africans. His solution? Ship them back. "The great civilizations of the ages have been produce[d] by the Caucasian race," he wrote. When Black people moved in, he wrote, mighty societies such as ancient Egypt were destroyed and mongrel races were created. "The mongrel not only lacks the ability to create a civilization, but he cannot maintain a culture that he finds around him," he wrote. "A White America or a mongrel America — you must take your choice!"
So we have this weird, violent, and barely controllable political moment now joined to the country's insane attraction to its firearms. It can't have escaped everyone's attention that, just as the 18-year-old Payton Gendron was setting out on the way to Buffalo, a federal appeals court was throwing out a California law that forbade the sale of weapons like the one Gendron used to anyone under 21 years of age. From NPR:
In a 2-1 ruling, a panel of the San Francisco-based 9th U.S. Circuit Court of Appeals said Wednesday the law violates the 2nd Amendment right to bear arms and a San Diego judge should have blocked what it called "an almost total ban on semiautomatic centerfire rifles" for young adults. "America would not exist without the heroism of the young adults who fought and died in our revolutionary army," Judge Ryan Nelson wrote. "Today we reaffirm that our Constitution still protects the right that enabled their sacrifice: the right of young adults to keep and bear arms."
Apparently, this gift to the federal judiciary from the former president* believes that the Tops Friendly Market in Buffalo was regularly patronized by Redcoats. I have no wisdom to offer beyond that observation.
This content is created and maintained by a third party, and imported onto this page to help users provide their email addresses. You may be able to find more information about this and similar content at piano.io