OACYS Technology celebrates 40 years in business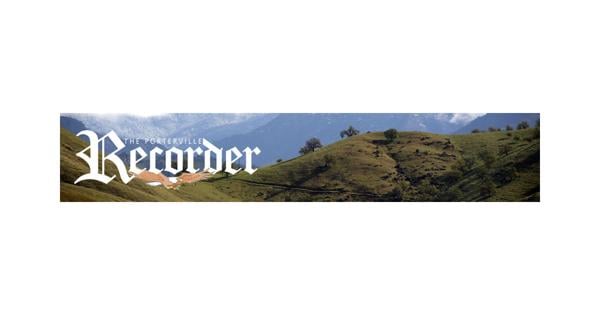 OACYS Technology, a local internet provider, had their 40 year anniversary celebration on Saturday, May 21, and hosted the public, as well as clients to a delightful lunch and get-together at their large technology service center on Henderson Avenue, where Morris Levin used to be located.
A delicious taco lunch was hosted by owners Joslyn and Ryan Walker, with the food prepared by Estrella Tacos Food Truck, from Strathmore. There was also cake for dessert, sodas and water to drink, as well as promotional OACYS gift items, like coffee/tea cups, water bottles, cups, and hats, pens, and post-it like notes.
OACYS is offering free installations for their new wireless and fiber customers.
OACYS, when​​ they were Olson Computer Services were the first to offer dial-up internet in 1995 to Porterville and the surrounding areas. They've come a long way in 40 years, and now offer Fiber-to-the-home internet service since 1918. Besides their great local technical and customer service, OACYS offers virus protection, data back-ups, and more.
The Walkers have owned OACYS technology for about six years, after buying the company from Ted and Astried Olson, who founded it in 1982, at the Porter Road headquarters.
Ryan has worked at OACYS for 25 years, since he was a high school senior, and worked his way through college.
"We've been looking at the old Morris Levin building for years," said Joslyn, "It's been waiting for us. That's ours." She is the CFO and accountant and Ryan is the Preside​nt and visionary. "Everything we have was built by hand by Ryan and Crystain Chavez," she says.
They have a large crew of 25 employees, with Chavez as field operations manager, Dave Adams as tower site manager, Brenda Rubalcava Customer Service manager, with Paul Hana in consulting and voice manager.
"I'd like to honor my employees," said Joslyn, "We are a really tight knit crew, like family. We value our customer service, and it is one of our top priorities. And we pride ourselves on being a local provider. You can come see us in person and discuss your needs. We also have 24 hour service support if needed.
We also like to be a one stop shop, offering fiber and wireless internet, voice phone service, managed IT, and we also have in-shop computer repair services.
On Friday, May 21, Tulare County Supervisor 5 Dennis Townsend awarded OACYS, and the Walkers a Certificate of Recognition for the company's 40 year anniversary.
Joslyn said the Olsons planned to be there, but unfortunately couldn't make it. They moved to Idaho six years ago.
"We are thankful for our customers and our awesome team of employees," said Ryan, " We couldn't do it without them. One of our employees has been here for 34 years, and several others 10 years or more."
Joslyn and Ryan are so supportive. They are amazing. It's like working with family, said Rubalcava.
Ava Martinez also said that Joslyn and Ryan were great employers and people. And it reflects in the company's customer support, which is very family oriented, "We really take pride in every level of the business."
Long-time entrepreneur and community supporter Richard Eckhoff spent part of the afternoon visiting with his friend Steve Walker, Ryan's father.
Eckhoff remarked that he was looking forward to having the Talent Show again, aka the City of Hope, again at the Buck Shaffer Auditorium.
Porterville Museum curator Susan Uptain dropped by, with her son, Dave Hawley, who works at the museum, as well as the library.
"OACYS is our carrier at the museum. They have superior service and really help us," she said.
"Melodie recognized me," said Janice Whitaker, "having helped me over the years. She is so understanding and helpful. For maybe 7 to 8 years I've had wireless, and prior to that dial-up internet service. They are unbelievable. They fix the dumb problems I have, and help people who are not so technologically adept."
There were quite a few people who signed up for internet service with OACYS on Saturday.
"We've been with OACYS for years. They are the only internet service we've ever had, and their customer service is really great and worth every penny. They've helped us with multiple computer problems and have also helped me with my phone. They are great with low tech people, " said Susie Neal.
Kristy Martin, Porterville Chamber of Commerce CEO, said she was very excited for OACYS celebrating their 40 year anniversary, "They are a big part of the community, and I'm happy to see them be able to grow."
For more information contact Jenna Hadley at 781-4123 or sales@oacys.com.