New York nurses hope proposals will ease overtime burdens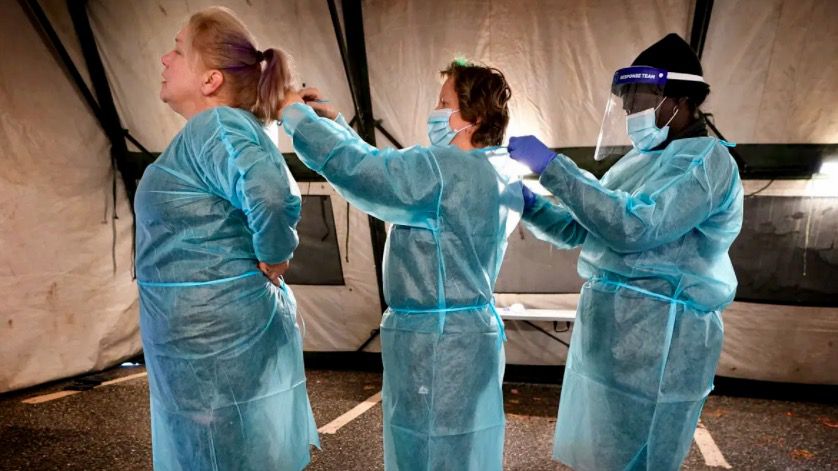 Nurses who have been on the front lines of the COVID-19 pandemic are facing staff shortages and burnout. A wave of departures over the last year have compounded the problem.
New York state lawmakers this month approved a package of bills meant to change that, and the bills will next head to Gov. Kathy Hochul's desk.
Health care workers have left their jobs in droves after two grueling years of a public health crisis. It hasn't helped for many nurses, said Una Davis, that many have been working around the clock. This, in turn, could create problems for patients.
"This is unfair to the patients, it's unfair to the nurses," Davis said. "A nurse should not be forced to work 24 hours because they're not competent to care for a patient."
Davis, a Bronx nurse and member of the New York State Nurses Association, said legislation that is meant to better enforcement limits on how long nurses are working will be helpful.
"This would help nurses to be more confident in what they do," she said.
Lawmakers this month approved fines for employers who break mandatory overtime laws, expand overtime laws to include home care nurses and clarifies when nurses are working long shifts.
Elected officials have raised concerns about the churn and retention issues facing the health care sector. Hochul earlier this year announced bonuses for health care workers, as well as efforts to recruit more workers over the next five years.
Many health care workers worked diligently through the early weeks of the pandemic. But that had the effect of quickly tiring out many who were providing care under difficult circumstances, Davis said.
"Everyone was in a state of get up and go. That has passed," she said. "A lot of nurses, they were burned out during that time."
Alicyn Salato, a nurse at Auburn Community Hospital and member of 1199 SEIU, said if given final approval, the measures will help improve morale for nurses.
"It does create exhaustion, which prevents quality of care," she said, adding, "I think people will be happier. I also feel that you need to show your nurses that they are valued and appreciated."