New York Adult Survivors Act goes to Hochul's desk for final approval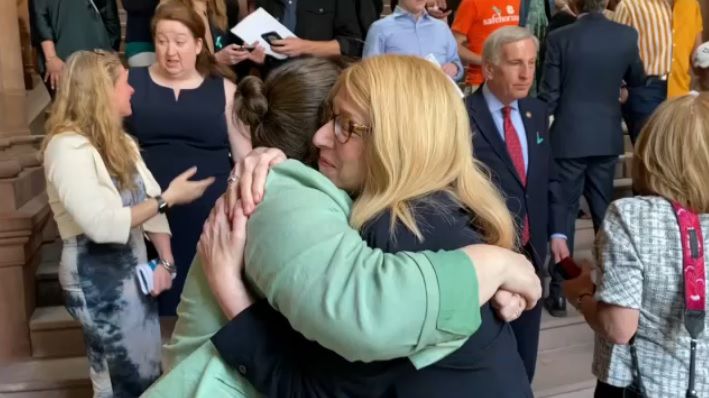 New York lawmakers and advocates are cheering the final approval of a measure that is meant to make it easier for sexual abuse victims and survivors to file lawsuits — holding both their abusers and potentially the organizations that shielded them accountable.
It's a victory for supporters like state Sen. Brad Hoylman and Assemblywoman Linda Rosenthal. The measure is modeled after the Child Victims Act, which opened up similar legal avenues for people who were abused or assaulted as kids.
"Trauma takes time," Rosenthal said. "A person who has suffered such horrific abuse cannot be forced to come forward and speak out before they are ready."
State Assemblywoman Jessica Gonzalez-Rojas cast vote in favor of the Adult Survivors Act — a provision that is expected to help people who have been raped, assaulted and abused. For Gonzalez-Rojas, it's also a way of helping people like her. She was raped 25 years ago.
"I've never said that aloud before," she said at a rally at the Capitol. "But it's because of each and every survivor that has told their story over and over and over again. I feel held and I feel loved and I feel validated."
Hours later, the state Assembly approved the bill 140-3 following approval in the state Senate weeks earlier. It now goes to Gov. Kathy Hochul's desk for her approval, and she's expected to sign it.
Gonzalez-Rojas was one of several members of the Assembly who spoke at an emotional rally Monday to reflect on the Adult Survivors Act soon being made law.
"While no bill or law will undo the trauma and the pain and the confusion and the guilt and the sadness of that experience 25 years ago, it gives a semblance of justice," she said.
Once law, it will allow survivors and victims like Marissa Hoechstetter to file lawsuits for up to one year.
""They have a right to seek justice for the harm that was done to them," said survivor Marissa Hoechstetter.
Hoeschtetter has pushed for the approval of the provision alongside fellow survivors. She said the moment is an important one for advocates.
"It's hard to say that this feels satisfying," she said, "but whatever you choose to do with what happened to you, you now have the power."