New PM's political challenge is to unify a divided Conservative party
Political turbulence has become the norm.
I was born in 1980. I was in my late 20s before the country was governed by the fourth prime minister of my lifetime, Gordon Brown.
On Monday, we'll know the name of the next prime minister – the fourth in little over six years.
Even the most optimistic backers of Rishi Sunak don't think he will win – they merely think the margin of defeat might not be quite as wide as some opinion polls have suggested.
I hear, as expected, loads of Conservative Party members voted early: 14% in the first two days, a third in the first week.
Supporters of Liz Truss are confident they have won, by a solid margin if not an overwhelming one.
"At no stage have we ever felt on the back foot," one member of the core campaign team told me.
And the biggest jobs in a Truss administration have been allocated. We can expect to see Chancellor Kwasi Kwarteng, Home Secretary Suella Braverman and Foreign Secretary James Cleverly.
I'll write more in the coming days about the challenges the new government will face. Unsurprising spoiler – they are colossal.
But what about the political challenge for the new prime minister of gluing the Conservative Party back together?
Changing leader when you're in office as a political party offers a great chance for renewal. But only after a public slanging match.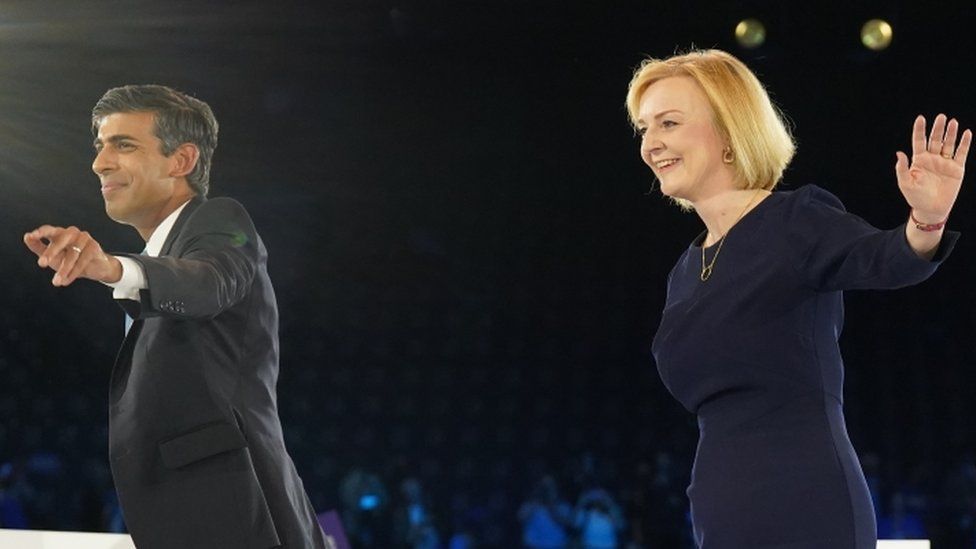 I hear plenty of Conservative donors are pretty hacked off. Many were drawn to the party by Boris Johnson and have seen month after month of squabbling.
And remember Liz Truss trailed Rishi Sunak among Tory MPs – plenty of them are deeply sceptical of her, and a smaller proportion of the parliamentary party has openly endorsed her than backed David Cameron, Theresa May or Boris Johnson.
Perhaps a couple of dozen Conservative MPs might be pretty much irreconcilable to the idea of her as leader, and some might be quite gobby about it.
Team Truss will hope that if they can be seen to deliver, some sceptics might be won over to the point where at least they keep quiet, even if they are not exactly gushing in their enthusiasm. And others will get on board.
But views among senior Conservatives about the capacity of the party to come together vary widely.
One, who is quite optimistic, quotes the 18th century writer Samuel Johnson: "When a man knows he is to be hanged in a fortnight, it concentrates his mind wonderfully."
It's a reference to the party's position in the polls – considerably behind Labour – and a hoped for instinct to focus on them.
Another senior figure points out that the debates between Liz Truss and Rishi Sunak have felt much less confrontational in recent weeks, something that was particularly noticeable in the final hustings at Wembley Arena the other night.
But others – some who backed Liz Truss, and some who backed Rishi Sunak – are much less optimistic.
One senior figure points out the party's poll ratings have plunged since Boris Johnson resigned and the campaign has raged, leaving plenty of MPs in marginal seats gloomy.
Then there is the battalion of Sunak supporters in the parliamentary party.
Another long standing MP frets that Prime Minister Truss may not reach out to as many Sunak supporters and offer them jobs as might be wise, and that could entrench divisions in the party.
And then, most importantly, there is the business of getting stuff done. Turning the promises into reality.
This, above everything else, is probably the biggest determining factor in holding the party together.
That's because, more to the point, it is likely to be how you, reading this, judge her – and so decide whether to re-elect her and the Conservatives at the next election, at some point in the next two and a bit years.
As for those promises, and the political challenges that await, I'll write again here tomorrow.