MTC adds industrial technology career training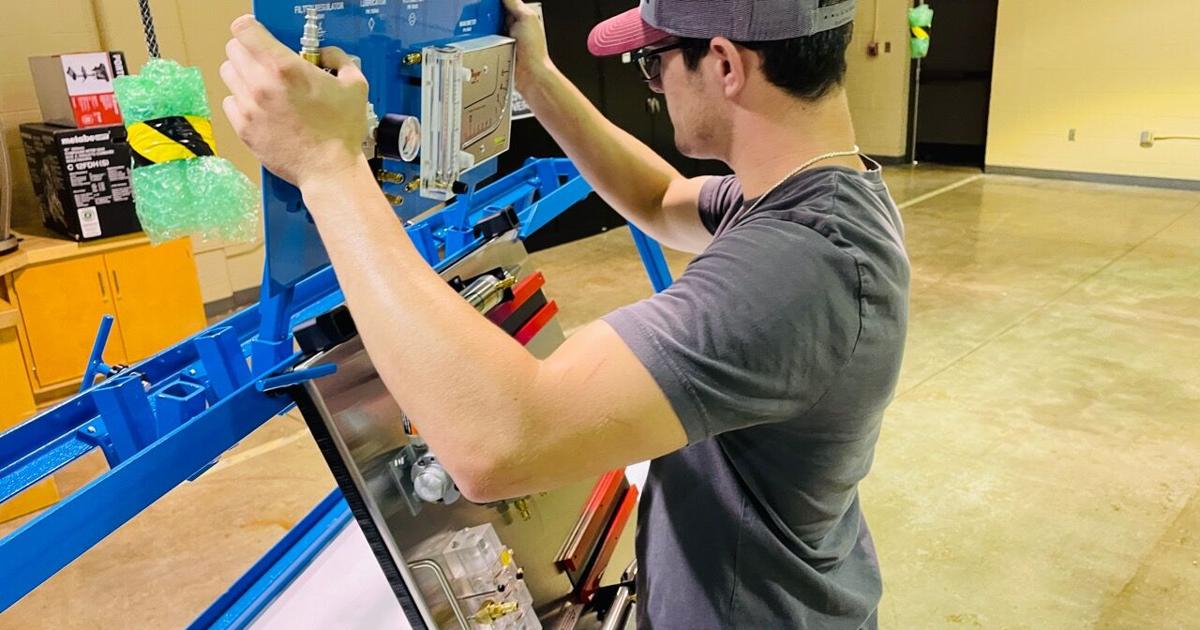 Meridian Technology Center will offer an Industrial Technology track in the fall as a part of its Energy and Power program.
Industrial technology is a term that most people hear but might not understand, according to Energy and Power instructor Cody Erwin.
"When we talk about industrial technology, we're talking about a broad term that describes the technology used in the engineering process or to manufacture goods," he explained. "Its application uses complex, intelligent machine processes to optimize resources. Industrial technology helps the manufacturing process become faster, simpler and more efficient."
The new Industrial Technology training will focus on industrial electrical systems, fluid power systems, mechanical drive systems, programmable logic controllers and process controls. Students will also learn to program robotics and mechatronics. Upon completing the program, graduates will have the basic knowledge and skills to set up, operate, maintain and repair advanced machines and control systems that power modern manufacturing facilities. This program will be offered in the morning and afternoon sessions at Meridian. Students can complete the program in less than a year.
When describing students who would excel in the Industrial Technology program, Erwin noted it is ideal for individuals who like to ask questions and those who want to know how things work.
"If you liked building things with Legos, taking things apart or troubleshooting a problem, this might be a perfect career," Erwin said. "The work environment is fast-paced, and time means money. One hour of downtime could mean thousands of lost profits for a business."
Input for course curriculum and program equipment came from industry partners who serve on the program's Business and Education Council. Erwin has spent the last year working with local industrial technology companies to understand the changing needs of the industry. Conversations included job outlook, filling the skills gap, new equipment and employment barriers.
Representatives from National Standard, Armstrong World Industries, Ditch Witch, Stillwater Power and Oklahoma Gas & Electric's Sooner Power Plant worked with Erwin to develop the Industrial Technology career training pathway. In addition to helping him identify equipment and content for his new program, many of the committee members have offered internships to students enrolled in the current Energy and Power courses.
"Industrial technicians are crucial to the operation and growth of the manufacturing industry," Erwin said. "Technicians ensure it all runs smoothly."
Current course offerings in energy and power
In addition to the Industrial Technology pathway, Meridian's Energy and Power program also includes training in Power Production and Distribution as well as an Electric Utility Lineworker pathway.
The Power Production and Distribution area of study covers mechanical, heat, chemical, electromagnetic and clean energy. Students learn through hands-on projects that demonstrate the interplay of the generation, distribution and energy use. This course will only be offered in the morning. It will take students one year to complete.
Graduates of the Electric Utility Lineworker course typically work in dangerous conditions, and they must be able to work quickly and efficiently to keep power moving. Individuals pursuing this career path should be physically fit, focused on safety, comfortable with heights and prepared to work in various environments. Critical thinking is also essential for this profession, as lineworkers must think quickly when problems arise. Students who complete this program will be prepared for a variety of careers in the energy sector as well as telecommunications, utilities and construction. This program is available in the afternoons and is open to high school seniors and adults.
To learn more about career training options in the Energy and Power program, visit meridiantech.edu/programs/energyandpower. For more information or to enroll contact a career counselor by phone at 405-377-3333 or toll-free at 888-607-2509.
Meridian Technology Center has been a driver of economic development since 1975. With a mission to educate, enrich lives and secure economic futures, Meridian offers full-time career training programs, short courses, workforce and economic development assistance and entrepreneurial support to residents from the Agra, Carney, Glencoe, Guthrie, Morrison, Mulhall-Orlando, Pawnee, Perkins-Tryon, Perry and Stillwater school districts. The school has locations in Stillwater and Guthrie. Meridian is one of 29 schools within Oklahoma's CareerTech system.