MIT community stands together against hate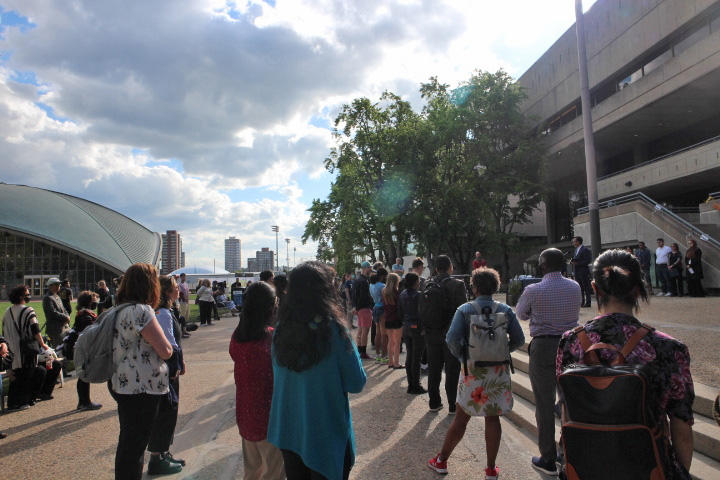 Members of the MIT community gathered on the steps of the Stratton Student Center on May 17 to support each other in the wake of yet another mass shooting targeting the Black community, this time in Buffalo, New York. As MIT President L. Rafael Reif wrote in his letter to the community about the violence, "In a world full of so much that we cannot control, let us focus on what we can: caring for and comforting each other in a time of grief and pain."
"United against hate, our minds are one. United against hate, our hands work together as one. United against hate, our hearts are together as one," said Nina Lytton, program coordinator for interfaith engagement and humanist chaplain, in her opening remarks.
Sponsored by the Office of Religious, Spiritual and Ethical Life and the Institute Community and Equity Office, the vigil opened with a reading of the names of each victim of the Buffalo shooting. "You can't address what you don't acknowledge," said John Dozier, MIT's Institute community and equity officer. "This was more than an act of hate. This was racism."
Speakers for the service included Lytton, Dozier, Rabbi Michelle Fisher, Undergraduate Association President David Spicer, Faculty Chair Lily L. Tsai, Muslim Chaplain Nada El-Alami, and Chancellor Melissa Nobles; Kevin Vetiac led the community in song to open and close the service.
"I think there is comfort in knowing that we can come together and feel the strength of the community, rather than dealing with these impacts on our own." said El-Alami.
In her remarks, Nobles urged the community toward action and hope: "Get involved. Reach toward each other. Who we want to be is how we behave. If we don't want to see hate, we love. If we don't want to see segregation, we unite. The world we want to have is up to us. We must do the things we need to grow as a community now — that will win the day."