Indiana County Technology Center holds graduation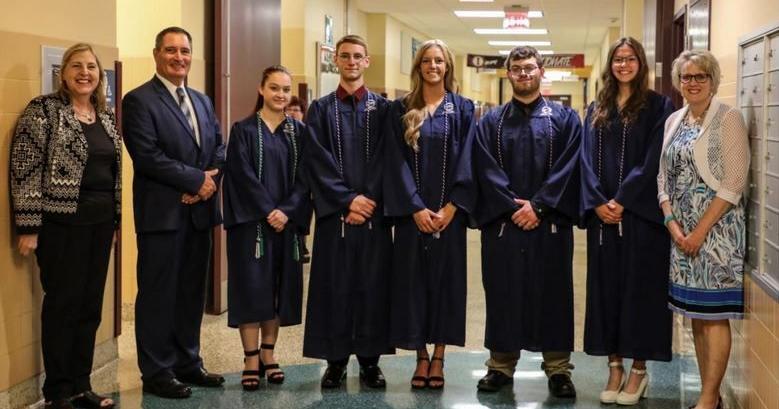 The Indiana County Technology Center recently honored and celebrated the achievements of the senior class of 2022 on May 26 at their annual Senior Ceremony held at Indiana Area Junior High School.
The Indiana County Technology Center Class of 2022 are:
Dillon Buchinsky, River Valley; Steven Fisher, Marion Center; Cory Hudson, Purchase Line; Thomas McCurdy, Indiana; Vance Mendicino, River Valley; Morgan Rhea Passmore, Purchase Line; Julian Shultz, Penns Manor; Nathan Stefancik, Adult Ed.; Brandon Wilshire, Purchase Line
Michael Busani, River Valley; Shae DeHaven, Marion Center; Kayden Edwards, Indiana; Joseph Everett, Indiana; Dominick Harris, River Valley; Bryce Ruffner, United
Amarie Brown, Indiana; Lucas Donahue, River Valley; Sean Furman, Purchase Line; Trenton Klingensmith, United; Trevon McFarlin, River Valley; Tyler James Miller, United; Trevonn Mills, Homer Center; Ian Pavelchick, River Valley; Garret Rager, United; Cody Saxfield, Marion Center; Matthew Steffey, Homer Center; Lauren Tautkus-Malobisky, Indiana
Cortney Bracken, River Valley; Aleasha Brendlinger, Penns Manor; Anna Coleman, River Valley; Tori Gearhart, Marion Center; Hayley George, Marion Center; Adison Gromley, Marion Center; Shaylin Ickes, United; Rebecca Kirkland, Marion Center; Sara McClelland, Indiana; Rebekah McCullough, Marion Center; Izabella Musser, Indiana; Lily Orr, Penns Manor; Brandon Pizer, River Valley; Amanda Rose Skursky, Indiana
Kaydance Allshouse, River Valley; Kylee Best, River Valley; Connor Burtick, Indiana; Brittany Casteel, Marion Center; Jordan Gibbons, Homer Center; Shane Keith, Marion Center; Sarah Lefdahl, Indiana; Madyson McGee, Indiana; Paige Podolski, River Valley; Kristianna Shearer, Indiana; Michael Stibrik, Purchase Line; Kalynne Trusiak, Indiana; Michael West, Marion Center; Taylor Zook, Indiana
Sheila Boring, Indiana; Morgan Brendlinger, Homer Center; Natali Brink, United; Aidan Cessna, Indiana; Alexandra Chelgren, Indiana; Mikayla Cramer, Indiana; Jolene Cribbs, River Valley; Sydney Duvall, Penns Manor; Connor Grant, Adult Ed.; Dalton Myer, Homer Center; Adalynn Ondo, Penns Manor; Natalie Pileski, Penns Manor; Luke Sell, Indiana; Jacquelyn Spaid, United
GRAPHICS & ELECTRONIC MEDIA
Micaylee DeHaven, Adult Ed.; Aidan Druschel, Marion Center; Ethan Johns, River Valley; Aaron Lowman, Penns Manor; Haley Mibroda, River Valley; Payton Mlakar, River Valley; Morgan Nelson, River Valley; James Olp, Marion Center; Joseph Shipley, Homer Center; Nydia Smith, United; Nicholas Taylor, Homer Center; Madison Westover, Adult Ed.
HEALTH OCCUPATIONS TECHNOLOGY
Kaeleigh Aikens, Purchase Line; Rose Ball, Purchase Line; Amber Barto, Purchase Line; Savannah Clark, Indiana; Shawna Cook, Marion Center; Megan Henning, Indiana; Shyanne Johnson, Indiana; John Mason, Marion Center; Kiersten Nichols, Indiana; Dakota Rummel, United; Jocelyn Stanford, Marion Center; Laiken Stitt, Marion Center; Haleigh Thacker, Purchase Line
HEATING, VENTILATION, & AIR CONDITIONING
Sage Bernard, Homer Center; Reece Brendlinger, Adult Ed.; Joseph Johnston, Penns Manor; Sydney Kishlock, Homer Center; Wesley Kitchen, Adult Ed.; Robert Koczan, River Valley; Brock Lloyd, Purchase Line; Christopher Lyon, Adult Ed.; Daniel Niel, Marion Center; Tyler Pennington, Indiana; Hunter Pratt, River Valley; Xander Revilla-Indiana; Rawley Roebuck, Adult Ed.; Jared Scott, Marion Center; Dylan Shaffer, Indiana; Eric Shaulis, River Valley; Zachary Stiffler, Purchase Line
INFORMATION TECHNOLOGY SERVICES
Michael Allen, Indiana; Ronald Appleby III, River Valley; Ian Bennett, Homer Center; Korey Ferringer, Indiana; Alaina Grondin, Penns Manor; Lane Hoffman, United; Joseph Johnson, Purchase Line; Joshua Keene, Indiana; Logan Oberlin, Indiana; Jonathan Paul, Indiana; Aidan Strong, United
Toby Bishop, Homer Center; Sebastian Blauser, River Valley; Logan Bowman, Indiana; Carter Gilmore, Marion Center; Garrett Griffith, Marion Center; Garret Isenberg, Marion Center; Shane King, United; Matthew Lee, Homer Center; Abram McCoy, Indiana; Koda Patterson, Penns Manor; Winn Rudnik, United; Daniel Smith, Marion Center; Russell St. Clair, Penns Manor; Nathan Strittmatter, Marion Center; Benjamin Thir, United; Logan Waters, Dennison-United
Jacob Buggy, Penns Manor; Tyler Lingenfelter, Marion Center; Timothy Reichenbach II, Marion Center; Anthony Trent, Marion Center; David Uadiski, United
Ethan Beighley, Indiana; Austin Clark, United; Nathan DeHaven, Marion Center; Jacob Flickinger, River Valley; Bradey Heberling, Marion Center; Cole Jarvie, Penns Manor; Jake Johns, Penns Manor; Trenton Marshall, Marion Center; Jacob McCracken, Indiana; Quintin Neal, Homer Center; Landon Nellis, Homer Center; Timothy Palmer, Indiana; Shannon Passmore, Purchase Line; Alexander Rambish, United; Legend Rankin, Homer Center; Calvin Rombaugh, Marion Center; Matthew Roth, River Valley; Matthew Silk, Homer Center; Austin Stapleton, Penns Manor; Evan Stewart, United; Gavin Stewart, Marion Center; Luke Winters, Marion Center