Hochul picks up labor nods, Zeldin releases new ad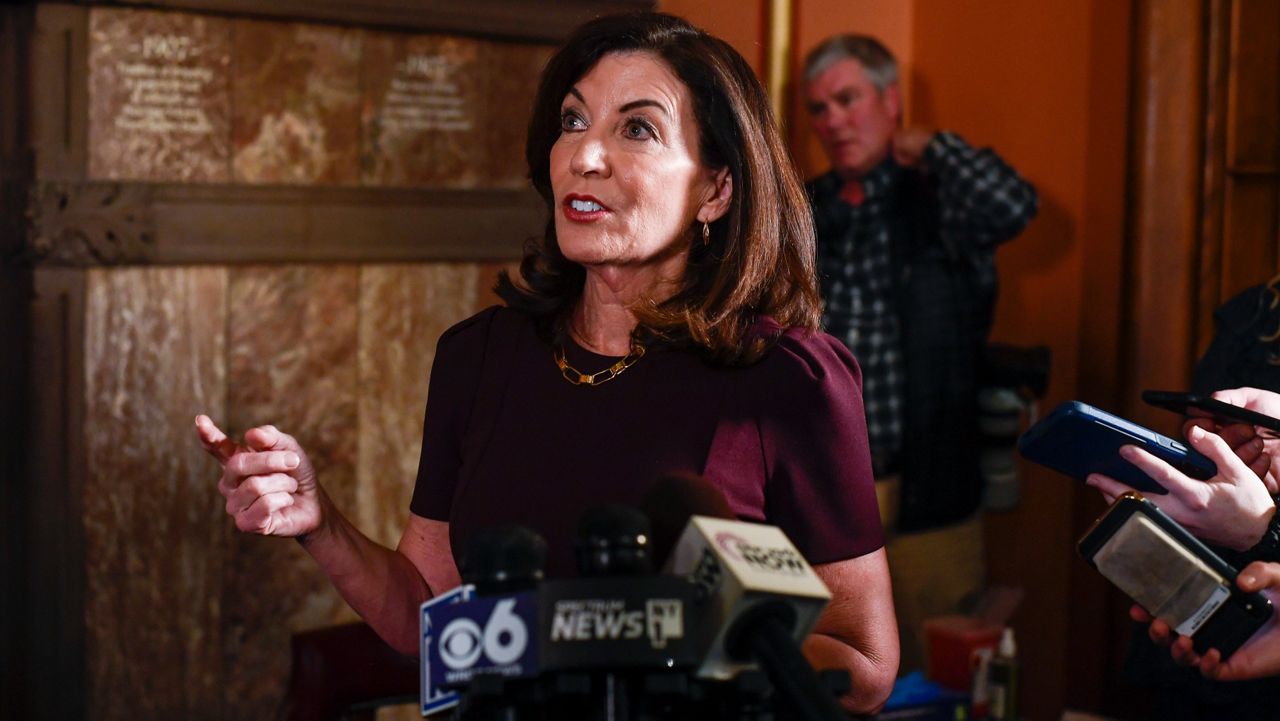 Gov. Kathy Hochul this week picked up a pair of union endorsements in her campaign for a full term, giving her the clear lion's share of the nods from labor in the crowded gubernatorial field this year.
Her opponents, meanwhile, sought to continue to raise issues surrounding public safety, crime and corruption in New York state.
U.S. Rep. Lee Zeldin, one of four Republican candidates for governor, released a TV ad blasting the resignation of former Lt. Gov. Brian Benjamin following his arrest on bribery charges. And one of Hochul's Democratic rivals, U.S. Rep. Tom Suozzi, called for more action in Albany to address crime after voters in New York state have identified the issue as a top-tier concern.
New York's race for governor is about to enter a different phase as candidates gear up for the final weeks of campaigning before early voting in the Democratic and Republican primaries begins on June 18. The primary itself will be held on June 28.
Hochul has continued to roll with endorsements as she runs for election. She was endorsed on Wednesday by the United Aut Workers Region 9 and Region 9A.
"We are proud to endorse Governor Hochul," said UAW Region 9A Director Beverley Brakeman. "She has a proven history of standing with unions and its members. We look forward to having an ally in Albany who will stand with us on issues that matter like the right to organize and form unions without retaliation or interference, accessible healthcare, fair taxation and corporate responsibility and accountability."
On Thursday morning, her campaign announced an endorsement from Communications Workers of America District 1.
"CWA District 1 is proud to endorse Kathy Hochul for Governor," said Dennis Trainor, CWA District 1 vice president. "In her time in public service, she has always been a true champion of labor and a great friend to our union. From our strikes at Verizon to just recently our strike at Mercy Hospital in Buffalo, she's walked our picket lines and always stood on the side of workers. Her steadfast commitment to workers' health and safety protections, her support of union rights and her leadership in promoting a fair recovery for working families are why we're excited to support her."
Hochul has so far received the backing from some of the state's powerful labor unions in the race for governor.
Suozzi and his preferred candidate for lieutenant governor, Diana Reyna, have focused on the rising concerns around crime in the state. In a news conference on Wednesday, they called for action in the final weeks of the legislative session.
"Every single day, either in the news or, God forbid, as victims, New Yorkers are faced with the dramatic uptick in violent crime," Suozzi said. "Polls and crime stats just double-down on what we already know: crime is the #1 concern of all New Yorkers."
And Zeldin, who is facing a four-way race for the GOP nomination for governor next month, released a TV ad on Thursday that sought to link Hochul to the parade of corruption scandals and resignations in state government over the last several years.
"If a politician abuses your money, they shouldn't just be defeated, they should be in jail," he says in the ad.