Energy secretary, Leger Fernández talk tech in Santa Fe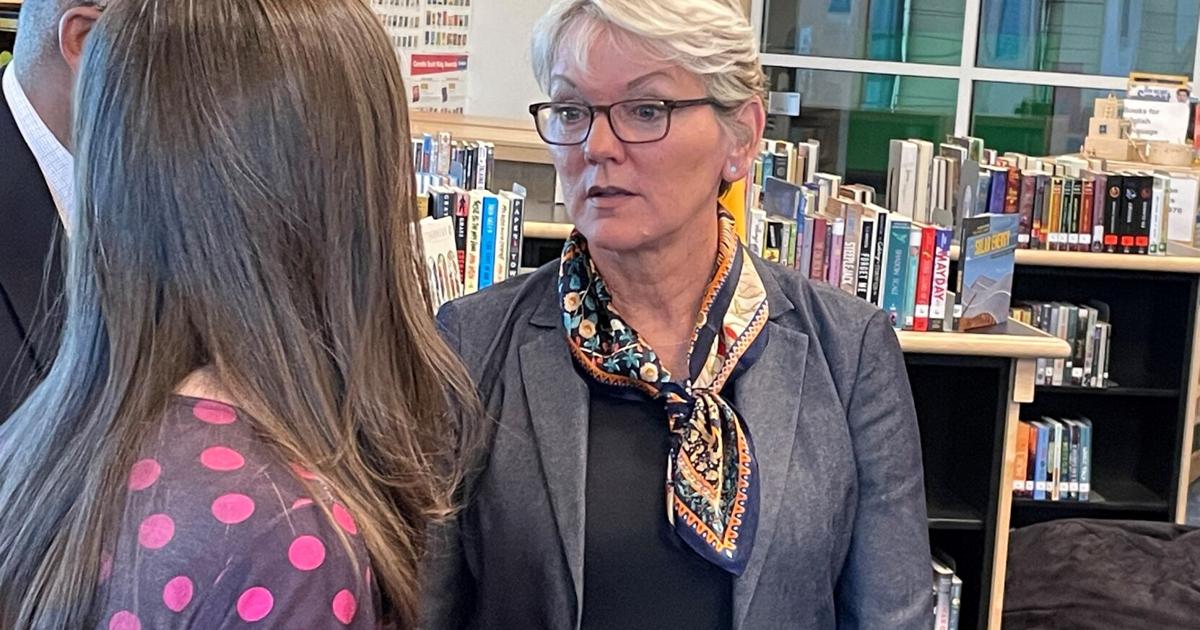 U.S. Energy Secretary Jennifer Granholm was in Santa Fe on Friday, hoping to play matchmaker between tech entrepreneurs, businesses and Los Alamos and Sandia national laboratories.
"My key takeaway is to make sure to improve entrepreneurial accelerators to make it easier for those not inside the labs to take advantage of the labs," said Granholm, whose agency oversees 17 national laboratories, including Los Alamos and Sandia.
Granholm and U.S. Rep. Teresa Leger Fernández, anchored a one-hour business roundtable at Milagro Middle School to hear from nine leaders at tech companies, government economic entities and the labs.
"You saw a lot of energy and excitement of the possibility to create high-tech companies in New Mexico relying on federal, state and tribal resources," said Leger Fernández, a S.F. Democrat.
Granholm on Thursday toured Sandia National Laboratories with U.S. Rep. Melanie Stansbury, an Albuquerque Democrat.
One area Granholm and Leger Fernández want to accelerate is technology transfer – the licensing of technology created at national laboratories and universities to private-sector companies.
"We have not had the tech transfer you would expect with the national laboratories we have," Leger Fernández said.
The Los Alamos lab has a robust $2.3 million state-funded New Mexico Small Business Assistance Program, through which private businesses can collaborate with lab scientists to solve a business' technology challenge. But tech transfer is not as robust as it could be, said Duncan McBranch, LANL's program director for driving innovation for mission.
"[The Department of Energy] could help with relationship building," McBranch said. "Companies say 'Why would I want a license? Go through the paperwork?' "
Los Alamos in 2020 launched a three-year, state-funded Technology Readiness Gross Receipts program that introduced a testing and evaluation license into the tech transfer process. That allows the entrepreneur and lab to get a better sense if LANL technology fits within the company — and take preliminary steps toward a tech transfer license, McBranch said.
"That gets them in the door," he said. "Can we take a very sophisticated technology and apply it to your business?"
McBranch said he would like to see more voucher funding programs from the Department of Energy to enable more staff interaction with private sector companies.
"We want to make it easier for staff to engage with companies," he said. "We want to simplify the process."
Richard Luarkie reminded the group tribes can be strong players in the tech sector.
"Tribes are a huge afterthought, not even thought of," said Luarkie, CEO of Tamaya Ventures, the economic development entity of Santa Ana Pueblo. "It's really important to think that tribes can be, not a secret weapon, but a secret sauce."
Luarkie stressed pueblos have a land base, infrastructure and financing available to invest and create technology parks.
"We can be the next-generation tech destination," Luarkie said. "My takeaway is this conversation needs to continue. We have all the pieces [in New Mexico], but the pieces stay separate instead of coming together."
Clean energy also was a theme for Granholm's visit.
Los Alamos-based Ubiquitous Quantum Dots, an advanced materials company that creates quantum dots that enable industry leaders to harness the power of light, had a seat at Granholm's roundtable. Company leaders said clean energy possibilities exist in labs, but getting from the lab to the street is the million- or billion- or trillion-dollar question.
"We need to industrialize the solution and scale it up," said Michael Burrows, the chief commercial officer. "How do we derisk that additional investment?"
Also seated at the roundtable were the governor of Santa Ana Pueblo and representatives of the Arrowhead Center at New Mexico State University, the state Economic Development Department, both federal laboratories, Build with Robots, and Advanced hCMOSS.