Chip Minemyer | Murtha remembered at Showcase, missed in divisive U.S. politics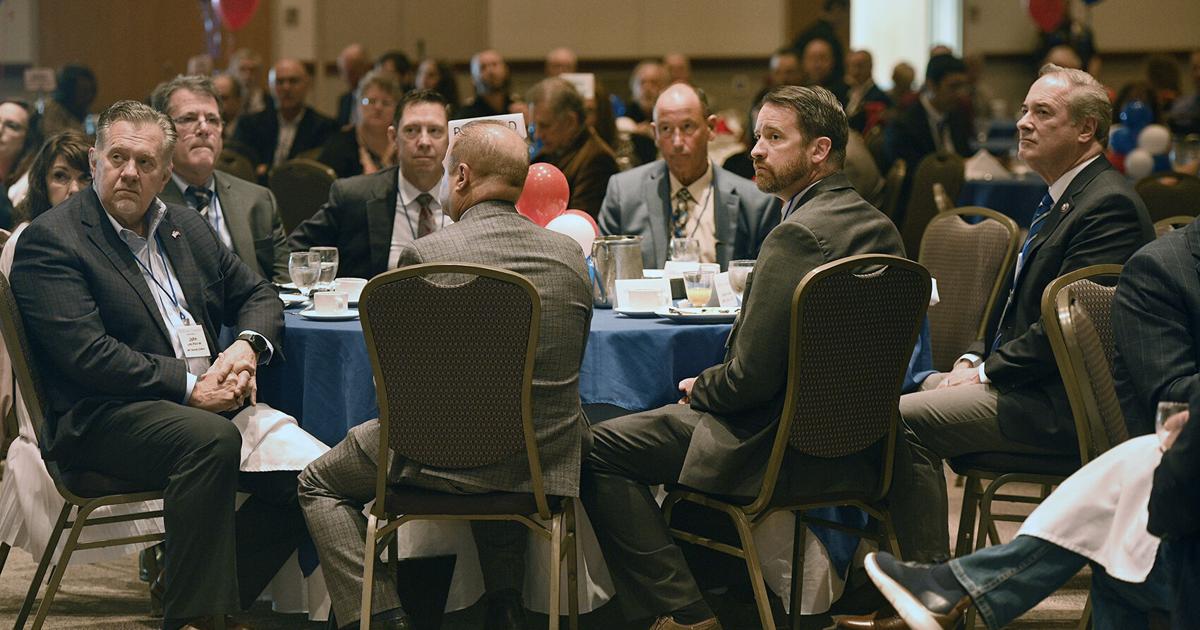 With the nation deeply divided on the issues of guns, abortion, gas prices and the economy, this week's Showcase for Commerce gathering in Johnstown was a sad reminder of what we've lost.
John P. Murtha was a longtime Democratic congressman with conservative personal leanings who worked toward the middle to get legislation across the floor of the House of Representatives and to support Johnstown and his home district.
At Friday's Showcase breakfast that bears Murtha's name, U.S. Rep. Glenn "G.T." Thompson called Murtha a "champion of bipartisanship" who mentored Thompson, a Republican, after the younger man was elected to Congress in 2009.
Murtha died in 2010. His passing sparked a period of declining political clout and divided representation for the Johnstown region, and also coincided with the beginnings of a sharp shift to divisive and partisan politics in Washington.
Murtha was an unapologetic supporter of his home district and Johnstown, and also a "driving force in supplying our military," Thompson said – bringing the two interests together through Showcase and the local defense industry.
And he was known for a willingness to work across the aisle, as they say, for the good of the country and his district, a tough leader who understood the value of cooperation over division.
That approach is missing in every debate that plays out in Washington, across the country and here in Pennsylvania.
U.S. Rep John Joyce, a Republican whose district will include all of Cambria County in January, couldn't help himself Friday when speaking about high gas prices. Joyce put the blame on "this administration" without offering any solutions of his own – even as Showcase visitors from Denmark and Sweden were noting that gas prices are even higher in Europe than in the United States.
Guns are the hot debate thanks to several mass shootings – including the brutal slaying of 19 fourth-graders and two teachers last week in Uvalde, Texas. That shooting was carried out by an 18-year-old gunman who purchased two assault rifles – legally – on his 18th birthday.
New York passed a bill Friday to raise the legal age for buying or possessing a semi-automatic rifle in that state from 18 to 21 in response to a recent mass shooting in Buffalo also carried out by an 18-year-old.
But the votes were basically along partisan lines, with Democrats holding the majority.
The U.S. House Judiciary Committee advanced similar federal legislation on Thursday, but that bill seems unlikely to become law with the House Republican majority largely opposed.
Polls show that most Americans support tightening of gun laws, such as raising the age limit for purchasing semi- automatic rifles. So why is finding compromise so hard?
Rep. Jim Jordan, of Ohio, a Republican on the judiciary committee, said: "Democrats are always fixated on curtailing the rights of law-abiding citizens rather than trying to understand why this evil happens."
On the Democratic side, President Joe Biden proclaimed "outrage" instead of seeking cooperation in pointing at Republicans' resistance to addressing gun issues.
Murtha was a military hawk who would not have been eager to oppose voters' second-amendment beliefs. But he would have been a leader in finding middle ground where some commonsense decisions could be made – to make our schools and society safer – as he was when speaking out against the Iraq war despite being bullish on the military.
Leadership is something we're missing in these deeply partisan times.
Until voters start holding divisive politicians on both sides accountable at the polls, we won't see a much-needed shift back to the middle – where John Murtha worked to the benefit of the nation and the Johnstown region.
• • •
During his sometimes choppy but insightful and often entertaining keynote address Friday at Showcase, Kevin Fahey offered some thoughts about the defense industry that would be applicable across the business spectrum – including for news media outlets.
Fahey – the president and chief operating officer at the consulting firm Cypress International, and a former Department of Defense official – criticized the DOD and the industry generally for being resistant to change and slow to integrate new technology, despite claims to the contrary.
The DOD "wants innovation" but "doesn't always embrace it," Fahey said.
"We want to take the next great thing and make it look like the shit we just got rid of," he said, prompting chuckles across the large gathering at the Pasquerilla Conference Center.
He cited as examples opportunities to develop cheaper energy options such as hybrid vehicles, and to utilize unmanned military vehicles for some operations – even as the Army and other branches are struggling in their recruiting efforts.
"It's no longer a technology barrier," he said. "It's a cultural barrier."
Mr. Fahey, it's not just defense that's guilty of that.
Chip Minemyer is the editor and general manager of The Tribune-Democrat and TribDem.com, GM of The Times-News of Cumberland, Md., and CNHI regional editor for Pennsylvania, Maryland, Ohio, West Virginia and North Carolina. He can be reached at 814-532-5091. Follow him on Twitter @MinemyerChip.