Boris Johnson narrowly survives confidence vote – but suffers significant Tory rebellion
Boris Johnson has narrowly survived a vote of confidence among Tory MPs – but suffered a rebellion bigger than Theresa May.
Some 211 MPs voted for the prime minister, compared to 148 votes against – a majority of 63.
He needed a simple majority – 180 votes or more – to continue in office.
The result means 59% of Conservative MPs backed Mr Johnson, with 41% voting against him.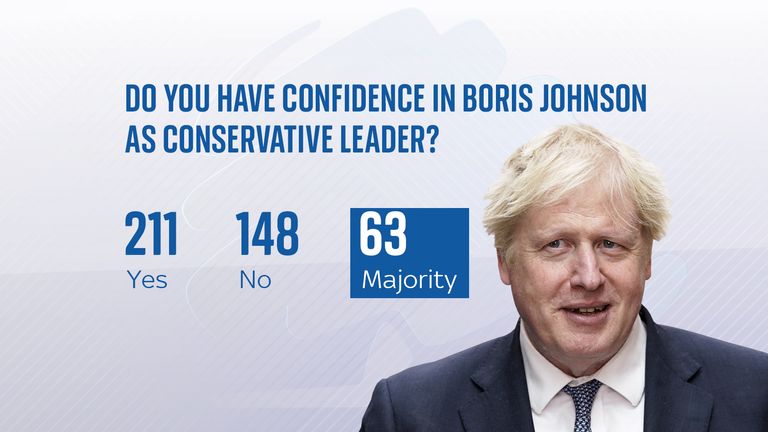 The prime minister is now immune from another leadership challenge for 12 months, under current Conservative Party rules – but the result will severely undermine his leadership.
Johnson narrowly wins confidence vote – follow latest updates
Mr Johnson said the "convincing" and "decisive" result means the government can "move on".
He said he was "certainly not interested in snap elections" in order to gain a new mandate from the public.
"What this means tonight is that we can focus on what we're doing to help people on the cost of living, with what we are doing to keep streets and communities safer," he said.
"It gives us the chance to unite, strengthen and level up our economy," Mr Johnson added.
"What we are going to do now is take the opportunity to unite and deliver.
"What we want to do is get on and use this moment – which I think is decisive and conclusive – and continue with our programme."
Asked how it compared to previous confidence votes in Conservative prime ministers, he added: "I have got a far bigger mandate from my own parliamentary colleagues than I had in 2019."
This is not a comfortable status quo
The rebellion is bigger than that suffered by Theresa May in January 2019. This is very difficult territory for Boris Johnson, who will not be inclined to want to bow to pressure.
The big question now is whether the cabinet move against him, perhaps after the two by-elections later this month? It is not a cabinet known for its robust approach to Mr Johnson, but there might be much pleading by MPs to put Mr Johnson out of his misery since there is now a large prospect of ongoing civil war in the party.
There has been speculation that up to five members of the cabinet may have voted against Mr Johnson. This is impossible to prove and we will never know.
What is more certain, however, is that a significant minority of those on the government payroll – ministers and those with the lowest level of government job – have voted against the man running the organisation they are part of. This is not a comfortable status quo.
Mr Johnson will be determined to hang on – as is his right under Tory party rules. However, precedent suggests there is no good outcome from this result, and he could still be ousted like Mrs May or just take the Tories down to defeat at the next general election like Sir John Major.
Read more:
How long will Boris Johnson last?
Which Conservative MPs have called on Boris Johnson to quit?
Rebel MPs say Johnson should not take party into next election
Sir Roger Gale, an outspoken critic of Mr Johnson who voted "no confidence," told Sky News he thinks Mr Johnson should not take the party into the next election.
Asked if he thinks Mr Johnson should continue as prime minister, he said: "No, I've expressed my view very clearly.
"I don't believe that he should take the party into the next general election and I think there are other elephant traps down the road – two by-elections coming up, the Privileges Committee report in the autumn – there are a lot of hurdles ahead and I think a prime minister of honour would look at the figures, accept the fact that he has lost the support of a significant proportion of his party and consider his position, but I don't think he'll do that."
Julian Sturdy, who voted against Mr Johnson, said the prime minister should consider his position despite his majority.
The MP for York Outer tweeted: "The scale of the vote against the prime minister this evening is clear evidence that he no longer enjoys the full-hearted confidence of the parliamentary party and should consider his position.
"As someone who supported Boris Johnson in leadership election & wants to deliver the manifesto promises made at 2019 GE, it is regrettable that I had to vote against the PM but I no longer have confidence in his ability to lead us through the challenges we face as a nation."
A 'handsome' victory?
Education Secretary Nadhim Zahawi said Mr Johnson won the vote "handsomely," telling Sky News: "I think the important thing to remember is that we only are able to deliver if we are united. I hope we can draw a line under this now and focused on delivery."
Pressed on how he can call the result "handsome", Mr Zahawi said: "It's a ballot. 50 plus one is a majority. Boris did much better than that."
Scott Benton, MP for Blackpool, who voted in favour of Mr Johnson, acknowledged the result was not good for the prime minister.
Asked if he could acknowledge it was not a good result, he told Sky News: "No, I can acknowledge it. Of course I support Boris Johnson. Would I have liked the majority to be higher for him this evening? Of course, I would.
"But as a Conservative Party we do one thing very well, and that's uniting and fighting the opposition."
Culture Secretary Nadine Dorries said it is "time to get back to the job of governing".
The Tory MP for Mid Bedfordshire tweeted: "The person Starmer doesn't want to face at an election is Boris Johnson who secured the biggest Conservative majority since 1987 and the highest share of the vote (43.6 per cent) of any party since 1979, with 14 million votes. Time to get back to the job of governing."
Foreign Secretary Liz Truss tweeted to say she was "pleased" her colleagues backed Mr Johnson while Housing Secretary Michael Gove said the prime minister had "secured the support of Conservative MPs".
Starmer says 'divided' party is 'propping up' PM
Labour leader Sir Keir Starmer said a "divided" Conservative Party was "propping up" Mr Johnson.
"The choice is clearer than ever before: Divided Tories propping up Boris Johnson with no plan to tackle the issues you are facing," he tweeted.
"Or a united Labour Party with a plan to fix the cost-of-living crisis and restore trust in politics. Labour will get Britain back on track."
Liberal Democrat leader Sir Ed Davey said Tory MPs are "now fully responsible" for Mr Johnson's behaviour.
"Whilst Boris Johnson has clung on today – make no mistake, his reputation is in tatters and his authority is now totally shot," he said. "It's clear that the prime minister and the Conservative Party are laughing at the British public."
Surge of MPs called for Johnson to go
It comes after a surge of MPs called publicly for Mr Johnson to stand down following Sue Gray's damning report into partygate.
At least 54 MPs – 15% of Tory MPs – wrote to the chair of the 1922 Committee of Tory backbenchers, Sir Graham Brady, calling for a vote.
Sir Graham notified the prime minister on Sunday that the threshold had been reached and they agreed on timings for the vote on Monday together.
Former prime minister Theresa May won a confidence vote in December 2018, where she secured the support of 200 MPs to 117 – a majority of 83, that represented the backing of 63% of her parliamentary party.
But five months later she announced her resignation, after repeatedly failing to pass her Brexit deal in the Commons.
In a letter to MPs ahead of tonight's vote, the prime minister said there was an opportunity to "draw a line" under recent issues.
"I do not believe our voters will lightly forgive us if – just when they need us most to be focusing on them – we appear once again to be focusing on Westminster politics," he said.