Biden to address global Covid summit as US death toll nears 1 million
Joe Biden marked the imminent "tragic milestone" of 1m deaths in the US in his address to the second global Covid-19 summit this morning, and renewed his call to Congress to strike a deal on a coronavirus relief package.
Biden highlighted the urgency of his $22.5bn request, which he says is crucial to fund vaccines, treatments and testing domestically, as well as boosting global efforts to end the emergency:
Today, we're at a new stage in fighting this pandemic, facing an evolving set of challenges. We have to double down on our efforts to get shots in people's arms, country by country, community by community, ensure we have reliable and predictable supplies of vaccines and boosters for everyone, everywhere, expand access globally to testing and treatments. And we have to prevent complacency.
Biden's demand of US lawmakers has stumbled, one of a number of growing headaches for the president amid crises over inflation and abortion rights. An on-again, off-again bipartisan Covid deal was scuppered by political wrangling over immigration specifically.
Republicans agreed to a $10bn compromise "in principle", without money for global initiatives, then backed out when the Biden administration insisted on pushing ahead with the termination of the Trump-era Title 42 policy that blocked refugees at the southern border because of coronavirus concerns.
Officially, the Covid-19 death toll in the US is not yet at 1m, Johns Hopkins reporting on Thursday a tally of 999,000.
But the inevitable reaching of that grim figure in the coming few days fired Biden's new call to action, at home and internationally:
I continue to call on Congress to take urgent action to provide emergency Covid-19 funding that is vital to protect Americans, to make sure that we maintain our supplies and Covid-19 tests, treatments and vaccines, including next-generation vaccines that are being developed.

The request also includes $5bn to keep up our global partnership in the fight against Covid-19 and sustain our efforts to get shots in people around the world, expand access to treatments and save lives everywhere.

We can do this, we can control Covid-19, we can start to build a better, healthier and more secure future today if we all do our part, and if we step up together.
He announced new global initiatives including sharing of US Covid-19 technologies, partnerships to expand access to rapid testing and antiviral treatments in harder to reach areas, and $450m seed funding for a pandemic preparedness and global health security fund to be established this summer:
The US has provided more than $19bn to help countries fight Covid-19, life saving medicines, oxygen, tests, equipment, supplies, and partnered with countries to improve their capacity to manufacture vaccines.

We've delivered more than 500m vaccines to 115 countries and we're going to… deliver another 500m doses.

But there's still so much left to do. This pandemic isn't over. We mark a tragic milestone here in the US, 1m empty chairs around the family dinner table, irreplaceable losses that each leave behind a family or community forever change because of this pandemic.
Read the White House proclamation on 1m Covid-19 deaths here.
Thanks for joining us for a whirlwind day in US politics! We're closing this blog now, but you can keep on top of developments in the Ukraine-Russia conflict in our 24-hour live blog here.
In a solemn start to the day, Joe Biden marked the imminent "tragic milestone" of 1m Covid-19 deaths in the US, and used the second global Covid-19 summit to renew his call for Congress to approve a deal on a relief package.
"There's still so much left to do. This pandemic isn't over," the president said.
"We mark a tragic milestone. One million empty chairs around the family dinner table, irreplaceable losses that each leave behind a family or community forever changed because of this pandemic".
Biden ordered flags to fly at half-mast around the country until the end of the weekend.
Here's what else we followed today:
Joe Biden is considering a visit to the Korean demilitarized zone, when he makes the first trip to Asia of his presidency, White House press secretary Jen Psaki indicated.
Senate leaders Chuck Schumer and Mitch McConnell urged senators from both parties to pass a $40bn Ukraine aid package, although objections in the chamber looked set to delay the vote.
Federal prosecutors opened a grand jury investigation into Donald Trump's handling of classified White House material.
The House committee investigating the 6 January Capitol attack incited by Trump subpoenaed the Republican House minority leader Kevin McCarthy and four other congressmen.
Nancy Pelosi explained why Democrats rejected legislation proposed by Republican senators that would codify abortion rights, claiming states would still have too much power in determining women's right to choose.
The nine US supreme court justices met for the first time since last week's leak of the draft opinion that would overturn almost half a century of abortion protections.
Joe Biden is considering a visit to the Korean demilitarized zone, when he makes the first trip to Asia of his presidency, White House press secretary Jen Psaki indicated moments ago.
The US president plans a trip to South Korea and Japan later this month. It came up at the briefing at the White House today, which is still underway, that Biden may go to the narrow neutral zone between North and South Korea.
The Biden administration also believes North Korea could be preparing for a new significant missile test, Psaki indicated.
A reporter asked: Does [Biden] intend to visit the DMZ and what's your current assessment of the threat of a North Korean nuclear test?
Psaki responded:
Well, on the first question, we're still finalizing details of the schedule for the trip and what it looks like. Obviously, that is a step that is taken by many who visit the region. But I expect we'll have our national security adviser here in the briefing room next week with Karine [Jean-Pierre] to preview the trip.

In terms of whether we expect a test. The United States assesses that [North Korea] could be ready to conduct a test there as early as this month.

This would be its seventh such test. We've shared this information with allies and partners and are closely coordinating with them.

As you noted, the president is traveling to the Republic of Korea and Japan next week, where he will continue strengthening these alliances and make clear our commitment to the security of the Republic of Korea.
The trip to Asia is scheduled from May 20 to May 24.
In 2019, then-president Donald Trump became the first incumbent US president to step into North Korea, after entering the DMZ, and he met North Korean leader Kim Jong-un.
There was no tangible outcome from the meeting, in terms of North Korea pulling back on its nuclear weapons program or other issues.
Joe Biden has spoken with retailers and manufacturers to address a chronic shortage of baby formula in stores nationwide, the White House has said.
In her afternoon briefing, press secretary Jen Psaki said the president demanded that safe supplies be restored as soon as possible.
Earlier today, leading manufacturer Abbott Laboratories warned it could take two months for its products to reach shelves after a nationwide recall.
Psaki said Biden spoke with chief executives of Walmart and Target to focus on restocking shelves, and said the administration would be looking at improving supplies through more imports, as well as asking the the federal trade commission and state attorneys general to clamp down on price gouging:
We've already seen an increase in supply over the past couple of weeks. What we are seeing, which is an enormous problem, is hoarding, people hoarding because they're fearful, and people hoarding because they are trying to profit off fearful parents.

We do not want parents, mothers, families out there to be stressed and worried about feeding their babies.

Our message to parents is we hear you, we want to do everything we can, and we're going to cut every element of red tape to help address this and make it better.
Ahead of huge protests planned this weekend against the prospect of Roe v Wade being overturned, US attorney general Merrick Garland has announced ramped up security for the Supreme Court justices.
"The Attorney General directed the U.S. Marshals Service to help ensure the Justices' safety by providing additional support to the Marshal of the Supreme Court and Supreme Court Police," the Department of Justice said in a press statement on Wednesday.
The attorney general's orders came after more than 100 protestors marched earlier this week to the home of Justice Samuel Alito. Alito wrote the 98-page draft opinion about Roe v Wade, leaked to Politico and published on May 2.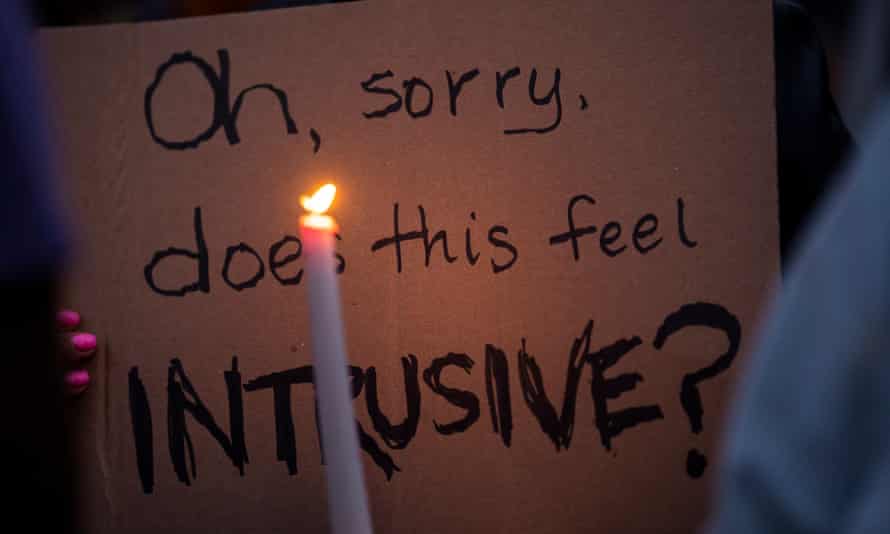 The final court decision on whether to remove the constitutional right to seek an abortion in the US, afforded by the landmark 1973 Roe ruling, is expected next month.
In addition to Alito, protestors also gathered outside the homes of Chief Justice John Roberts, even though he was not one of the five conservative justices from the nine-member bench, who signed onto the draft opinion.
And there were also demonstrations outside the home of justice Brett Kavanaugh, who did sign on, in the draft opinion, to overturn Roe.
According to federal statute Title 18, Section 1507 of the US code, it is illegal to picket or parade "in or near a building or residence occupied or used by such judge, juror, witness, or court officer" with the "intent of influencing any judge."
On Monday, senators swiftly passed the Supreme Court Police Parity Act which seeks to expand protection of the justices and their families. The bill is awaiting to be passed onto the House where if approved, will then be transferred to the president for his signature.
White House Press Secretary Jen Psaki said that protests "should never include violence, threats, or vandalism."
Workers took Donald Trump's name off his hotel on Pennsylvania Avenue in Washington DC on Wednesday, after the completion of the $375m sale of the lease to investors from Florida.
House Democrats estimate the former president, under legal and financial pressure on multiple fronts, will reportedly gain $100m from the sale, once a loan for the renovations is paid off.
One ethics group called the hotel "a sinkhole of corruption". During Trump's four years in the White House, the hotel became a magnet for aides, supporters and foreign businesses seeking favour.
Critics and ethics groups were particularly concerned about the situation as Trump did not formally divest himself from the Trump Organization. The presidential historian Michael Beschloss predicted that even after the sale "political ghosts will linger".
The hotel lost more than $70m in the four years of Trump's presidency, including losses each year before pandemic shutdowns in 2020. Many hotel brokers, owners and consultants did not expect the 263-room hotel, located close to the White House, to fetch such a high price.
The price of the lease, equivalent to more than $1.4m a room, has drawn scrutiny from Democrats in Congress. The New York Times reported that JLL, a real estate firm, put the average sales price for hotels in Washington in 2020 at $354,000 per room.
CGI Merchant Group, the buyer, reportedly plans to turn the hotel into a branch of the Waldorf Astoria hotel chain. Earlier this month, the House oversight committee requested documents from CGI, listing all investors, which reportedly include the former New York Yankees slugger and confessed drugs cheat Alex Rodriguez.
Read more:
Senators were urged to pass a $40bn package of military, economic and humanitarian aid for Ukraine by the end of the day, despite last-minute obstacles placed by rogue Republicans.
Democratic and Republican leaders tried clearing the way for its passage Thursday afternoon, the Associated Press reports. The measure passed the House 368-57 on Tuesday.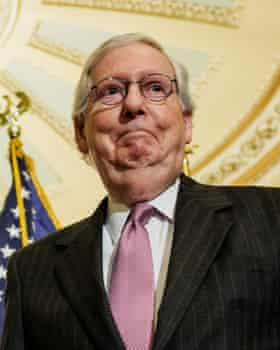 Senate minority leader Mitch McConnell called on "both sides to help us pass this urgent funding bill today".
The Kentucky Republican's pointed inclusion of his own colleagues came as the only apparent stumbling block seemed to be a demand from Rand Paul, the state's other senator, for an inspector general to scrutinize the new spending.
"I'm not allowing a speedy passage of the bill without having something fiscally responsible in the bill," Paul told reporters.
New York Democrat Chuck Schumer, the senate majority leader, backed McConnell's call:
Republicans shouldn't block this bill. There is no reason, no reason whatever, not to get Ukraine funding approved fast.
Joe Biden has promised to quickly sign the bill, which he says is crucial to keep military aid, including howitzer artillery and other weaponry, flowing to Ukraine.
McConnell said:
Helping Ukraine is not an instance of mere philanthropy. It bears directly on America's national security and vital interests that Russia's naked aggression not succeed and carries significant costs.
In probably the least surprising development of an already toxic Republican senate primary race in Pennsylvania, Donald Trump has weighed in to savage a rival – albeit a far-right one – challenging his favored candidate, the television personality Mehmet Oz.
The recipient of Trump's snark is the self-declared "America First" hopeful Kathy Barnette, a political commentator who has surged in popularity in recent weeks to a point where, according to Axios, Republicans are "panicking" she might actually win.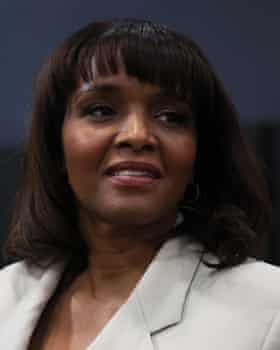 Barnette, who claims she was the product of her mother's rape at the age of 11, has a long history of controversial and extremist views. She is in the almost certainly unique position of being a Black Republican who has drawn criticism from all wings of the party, from Trump to Pat Toomey, the moderate senator whose retirement has opened up the Pennsylvania seat.
"Kathy Barnette will never be able to win the General Election against the Radical Left Democrats," Trump declares in his statement, littered as always with unorthodox grammar and punctuation, and random uppercase letters.
"She has many things in her past which have not been properly explained or vetted, but if she is able to do so, she will have a wonderful future in the Republican Party – and I will be behind her all the way.
"Dr Oz is the only one who will be able to easily defeat the Crazed, Lunatic Democrat in Pennsylvania. A vote for anyone else in the Primary is a vote against Victory in the Fall!"
Oz has a narrow advantage in the polls for the 17 May primary over Barnette and David McCormick, an Army veteran and George W Bush administration official favored by many mainstream Republicans.
But Maga voters, as the Guardian's Ed Pilkington found at a Trump rally in Greensburg earlier this month, don't quite know what to make of him.
Exactly who is the "crazed lunatic" Trump refers to is anyone's guess. There are four candidates for the Democratic nomination, including congressman Conor Lamb and Pennsylvania's lieutenant governor John Fetterman.
It's been a lively morning so far in US political news and there is more to come, so do stay tuned.
Here's where things stand:
Federal prosecutors have opened a grand jury investigation to try to establish whether Donald Trump mishandled classified White House materials that he had access to while he was the president and that have since been found at Mar-a-Lago, the residence he moved to after he lost the election to Joe Biden, the New York Times reports.
The outlet speaks of an "intensifying inquiry" indicating that the Department of Justice is looking into how Trump and senior aides handled sensitive documents in the dying days of the Republican's one-term presidency.
It writes:
In recent days, the Justice Department has taken a series of steps showing that its investigation has progressed beyond the preliminary stages. Prosecutors issued a subpoena to the National Archives and Records Administration to obtain the boxes of classified documents, according to the two people familiar with the matter, who spoke on condition of anonymity because of the ongoing investigation.

The authorities have also made interview requests to people who worked in the White House in the final days of Mr. Trump's presidency, according to one of the people.

The investigation is focused on the discovery by the National Archives in January that at the end of Mr. Trump's term he had taken to his home at the Mar-a-Lago resort 15 boxes from the White House that contained government documents, mementos, gifts and letters.

After the boxes were returned to the National Archives, its archivists found documents containing "items marked as classified national security information," the agency told Congress in February. In April, it was reported that federal authorities were in the preliminary stages of investigating the handling of the classified documents.