Biden Calls Out Trumpism: Top Political News of the Week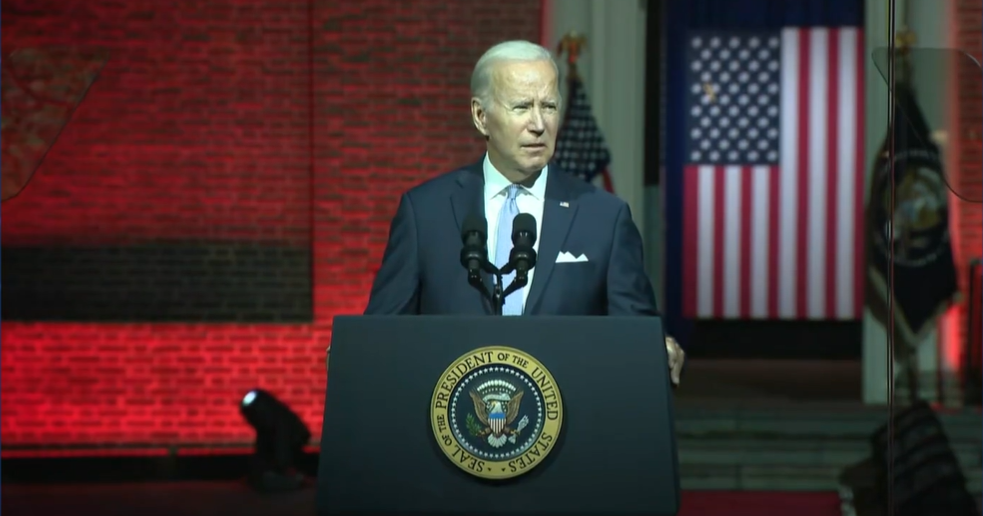 As midterms approach, the American political scene is getting busier than ever. Here are the top stories from the past week.
President Biden's Philadelphia Speech
Yesterday, President Joe Biden [D-Del.] delivered a rare primetime address to the nation to bring light to what he calls a "battle for the soul of the nation."
In the speech delivered from Independence Hall, the president warned of the dangers of political extremism, and how it can threaten substantial freedoms including the "right to choose, right to privacy, right to contraception, [and] right to marry who you love."
President Biden said Donald Trump [R-Fla.] and his disciples are going down the path of "semi-fascism" in August during a speech in Maryland and is continuing with this rhetoric as he again blasted Republicans for adopting Trump's MAGA ideology. MAGA is a reference to Trump's "Make America Great Again" slogan.
"MAGA Republicans do not respect the Constitution," according to President Biden, adding "they do not believe in the rule of law, they do not recognize the will of the people."
Biden continued, "they're working right now, as I speak, in state after state to give power to decide elections in America to partisans and cronies, empowering election deniers to undermine democracy itself."
The president, however, highlighted that while they might be the loudest subset of Republicans, the "MAGA Republicans" are not a majority within the party.
"Not every Republican, not even the majority of Republicans, are MAGA Republicans," Biden said.
He went on to state, "not every Republican embraces their extreme ideology."
The speech has garnered mixed reactions.
Many have praised the president for forcefully condemning Trumpism and extremism instead of vaguely referencing the issue.
"You don't stop Trumpism by pretending it isn't there," David Frum, a former speechwriter for George W. Bush said in a tweet.
"Biden won a great many votes in 2020 from people who did not especially support the Democratic agenda but hoped that a Biden presidency would restore politics as normal in the United States," Frum added on an opinion piece written for The Atlantic.
"They hoped that the defeat of Trump would jolt his party back toward accepting the rules of the democratic game […] Those hopes have been brutally dashed since January 6, 2021," Frum concluded.
Others, however, have criticized the President for his "divisive" rhetoric.
House Minority Leader Kevin McCarthey [R-Cal.] called on President Biden to apologize for calling Republicans "semi-fascist."
"President Biden has chosen to divide, demean, and disparage his fellow Americans – Why? Simply because they disagree with his policies," said McCarthey adding "that is not leadership."
Alaska Special Election
In a major turn of events, former State Representative Mary Peltola defeated her two Republican opponents, former Governor of Alaska Sarah Palin and Nick Begich III, in the special election to fill Alaska's only seat in the U.S. Congress for the remainder of this term. This makes Peltola the first Native Alaskan to win a congressional seat in history and the first Democrat to represent Alaska in the House since 1972.
This election was conducted through ranked-choice voting instead of first-past-the-post. This meant that voters ranked the candidates in order of preference on their ballots. Begich came in third place, so his votes were reallocated according to the voters' next preference allowing Peltola to edge out Palin.
Some experts have pointed out that Peltola's win is evidence of the damage that the Supreme Court's decision in Dobbs v. Jackson may have done to the Republican Party as Peltola outperformed Alaska's partisan lean by 11 points according to an article by FiveThirtyEight. Polls show Peltola losing to Begich in a head-to-head, however, so it is possible that a majority of Alaskans just do not want Sarah Palin as their representative.
Peltola, Palin, and Begich will face off again this November, this time competing for a full term in Congress.
GOP Moves to Block Student Loan Forgiveness
Several Republican legislators may bring a legal challenge against President Biden's student loan forgiveness announced last week.
Although there has not been any official lawsuit yet, Republican attorneys-general from Arizona, Missouri, and Texas, as well as Sen. Ted Cruz [R-Texas] are "currently reviewing their options" as reported by CNBC.
The White House has justified the forgiveness under the Heroes Act of 2003, which grants the president broad power to revise student loans during national emergencies.
"Those trying to block the forgiveness will likely argue that the Heroes Act of 2003 doesn't give the president the power to forgive student debt in the broad way he is trying to," higher education expert Mark Kantrowitz told CNBC.