Analysis: Threats against public servants define chilling January 6 hearing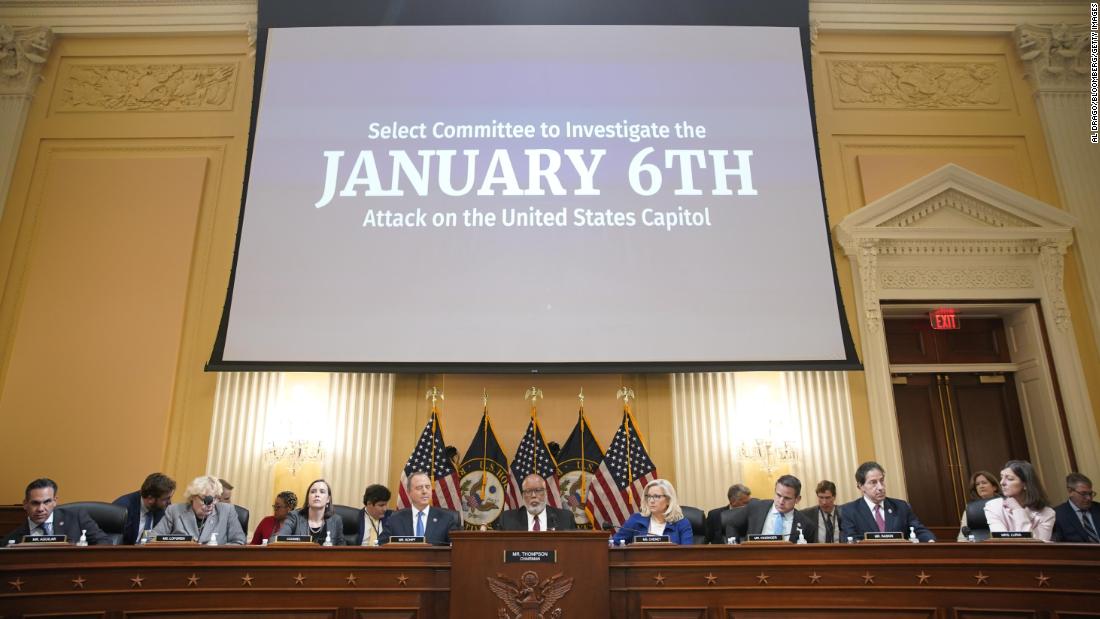 A version of this story appears in CNN's What Matters newsletter. To get it in your inbox, sign up for free
here
.
It's the simple but powerful message the House select committee investigating the attack on the US Capitol is
trying to convey
through its public hearings. The presentations to this point have offered a string of compelling narratives by focusing on the violence of January 6, 2021, and the officials who helped enable it.
But Tuesday's hearing delivered something even more sinister, with state and local election officials trading harrowing testimony about the dangers they had faced operating on the wrong side of former President Donald Trump's lies.
Georgia Secretary of State
Brad Raffensperger
, his chief operating officer Gabe Sterling, Fulton County election worker Wandrea "Shaye" Moss and Arizona House Speaker Rusty Bowers testified in person and shared accounts of threats and harassment they had faced as they sought to carry out their duties.
Beyond underscoring the intimidation campaign that drove Trump's efforts, their collective testimony linked election denial and threats to personal safety in a way
previous hearings
haven't.
The larger warnings about democracy were all still there: Multiple witnesses told the committee that Trump had been personally involved in the effort to put forward
slates of fake electors
in key battleground states — a major part of the broader effort to overturn Joe Biden's legitimate election victory.
But by anchoring the message in shaken public servants, the panel offered its most searing indictment of Trump and his allies yet.
Threats, harassment and public pressure. Through both in-person testimony and taped depositions during the fourth public hearing of the month, the House committee gave viewers a distressing look at the impact of Trump's rage.
Arizona: After refusing to help the former President and his allies, Bowers said he had received many "disturbing" threats. "We received, my secretaries would say, in excess of 20,000 emails and tens of thousands of voicemails and texts, which saturated our offices, and we were unable to work, at least communicate," he told the committee.
Michigan: State Senate Majority Leader Mike Shirkey recalled in his video deposition a conversation he'd had with Trump where he told the former President, "We were going to follow the law." Shirkey said he remembered receiving 4,000 text messages in a short period of time from Trump supporters calling for action to change the state's electors.
Pennsylvania: State Speaker Bryan Cutler said Rudy Giuliani had repeatedly tried to reach out to him, and longtime Trump political adviser Steve Bannon had called for protests at Cutler's office and home. "All my personal information was doxxed online. It was my personal email, my personal cell phone, my home phone number," he recalled in taped testimony. "In fact, we had to disconnect our home phone for about three days because it would ring all hours of the night. It would fill up with messages."
Georgia: Moss told the committee about the "hateful" and "racist" threats she had received via Facebook for her role as an election worker. "A lot of threats, wishing death upon me. Telling me that, you know, I'll be in jail with my mother and saying things like 'Be glad it's 2020 and not 1920,' " she said. Moss' mother was also an election worker.
The fallout in Georgia. Trump and Giuliani had alleged that Moss and her mother, Ruby Freeman, had been seen in a video passing a USB drive to each other. Moss said her mother had been just giving her a ginger mint.
"For my entire professional life, I was Lady Ruby. My community in Georgia, where I was born and lived my whole life, knew me as Lady Ruby. I built my own business around that name, Ruby's Unique Treasures. A pop-up shop catering to ladies with unique fashions. I wore a shirt that proudly proclaimed that I was, and I am, Lady Ruby. Actually, I had that shirt on. I had that shirt in every color. I wore that shirt on Election Day 2020. I have not worn it since, and I will never wear it again," Freeman testified.
At the state level, Raffensperger said that he and his wife were both getting texts and emails from people across the country in the face of Trump's pressure campaign. He said the texts to his wife were often sexual.
"They started going after her, I think, to put pressure on me," he said. Raffensperger said someone else had even broken into his daughter-in-law's home. Since she is a widow with two kids, he said, he was "very concerned about her safety."
Sterling recalled when he had
"lost it"
after learning that an election contractor working for Dominion Systems was receiving death threats "that had been posted by some QAnon supporters."
"I did pull up Twitter. And I scrolled through. I saw the young man's name. There was a particular tweet that, for lack of a better word, it was the 'straw that broke the camel's back.' The young man's name, a very unique name, first-generation American, I believe. It said his name, 'You committed treason, may God have mercy on your soul,' with a slowly twisting GIF of a noose. And for lack of a better word, I lost it. I just got irate. My boss was with me at the time. … She could tell that I was angry. I tend to turn red from here up when that happens. And that happened at that time," Sterling explained.
A clear and present danger. Part of what made Tuesday's hearing so alarming was how it presented unfounded voting grievances as not just an election cycle trend, but an ongoing threat.
Take
Bowers' testimony
, for example. At home, he said, it's become a pattern to worry about what happens on the weekends.
"Up to even recently, it is the new pattern or a pattern in our lives to worry what will happen on Saturdays because we have various groups come by, and they have had panel trucks with videos of me, proclaiming me to be a pedophile and a pervert and a corrupt politician and blaring loudspeakers in my neighborhood," he said.
"There was one gentleman that had the three bars on his chest and he had a pistol and was threatening my neighbor — not with the pistol but vocally. When I saw the gun I knew I had to get close," he said, noting the valiance and strength of his wife even at a time when their daughter was "gravely ill."
Freeman hit on the same concerns in a set of forceful remarks about the danger that Trump and Giuliani had put her family in with their unfounded allegations. "Now, I won't even introduce myself by my name anymore. I get nervous when I bump into someone," she said.
There isn't anywhere, Freeman added, "where I feel safe. Nowhere. Do you know how it feels to have the President of the United States target you? The President of the United States is supposed to represent every American. Not to target one. But he targeted me, Lady Ruby, a small business owner, a mother, a proud American citizen, who stood up to help Fulton County run an election in the middle of the pandemic."
Then there's Rep. Adam Kinzinger of Illinois. One of just two Republicans on the House panel, Kinzinger tweeted an image over the weekend of what he says was a threatening letter sent to him and his family.
On Sunday, ABC's George Stephanopoulos said Kinzinger's staff had
shared a threatening communication
with ABC News the congressman had received that was too "ugly" and "dangerous" to share with viewers on-screen.
Kinzinger explained the message had been mailed to his house a few days ago from the local area, threatening to execute him, his wife and their 5-month-old child. "I don't worry, but now that I have a wife and kids, of course, it's a little different," he said. "There is violence in the future, I'm going to tell you. And until we get a grip on telling people the truth, we can't expect any differently."
State and local office in the spotlight. Democratic Rep. Bennie Thompson of Mississippi, the House committee chairman, declared in his opening remarks on Tuesday that "Democratic institutions aren't abstractions or ideas."
"They are local officials who oversee elections. Secretaries of state. People in whom we have placed our trust that they will carry out their duties," he said.
But what happens when the local officials who oversee elections don't like the election results? It's an unfortunately prudent question given that election deniers are winning political nominations across the country and moving closer to
reshaping the election systems
in battleground states crucial to the next presidential election.
Trump has endorsed candidates for secretary of state and attorney general — statewide positions that play a crucial role in administering elections — who have spread his lies about 2020.
And in addition to statewide roles, Trump's acolytes are pursuing local election posts, even trickling down to the precinct level, and seeking to gain more prominent roles in state GOP parties and state legislatures ahead of the 2024 presidential campaign, when Trump could be on the ballot again.
Democracy advocates have raised the alarm at the effort from Trump, Bannon and their allies to help their supporters obtain positions running elections.
The fear? That Trump will have allies at all levels of state government — from officials who administer elections and election judges who handle precinct disputes to legislators who could intervene to select presidential electors — who could aid the former President in undermining an election result that went against him.