A perfect storm hits baby formula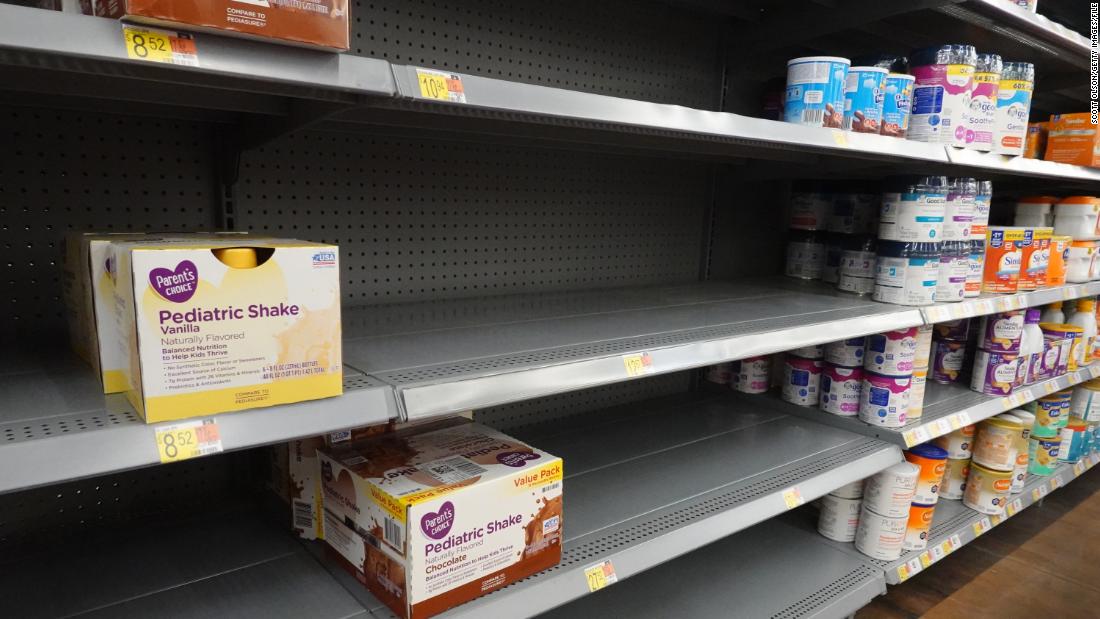 A version of this story appeared in CNN's What Matters newsletter. To get it in your inbox, sign up for free
here
.
There are no answers from government and business, other than parents who can't find formula should call their pediatricians.
Health angles.
The
possible contamination of formula
from Abbott Nutrition may have sickened four babies. Two died after consuming powdered formula manufactured by the company's facility in Sturgis, Michigan. Abbott has questioned whether the rare infections caused by Cronobacter sakazakii bacteria occurred because of its formula.
Misinformation angles.
Parents are looking for alternatives to formula and
wading through misinformation
about how to feed their babies during the shortage. Don't try to make your own formula, experts have told CNN.
Business angles. Shutting down one single factory exacerbated pandemic-related supply chain issues and supercharged this nationwide shortage — even though only certain batches of Similac, Alimentum and EleCare powdered infant formulas were actually recalled in February.
More than half of formula is out of stock in eight states and the District of Columbia, according to a new report from Datasembly, a real-time data tracking agency.
Abbott said on Wednesday that
it could restart production
at the Michigan facility, pending US Food and Drug Administration approval, within two weeks. Formula from the shuttered plant could be on shelves six to eight weeks after that.
Transparency angles.
The FDA was first aware of complaints about baby formula back in September, according to documents obtained through Freedom of Information Act requests
by Consumer Reports
and other news organizations,
but the Abbott recall didn't occur until four months later.
In March, the
FDA said Abbott had failed
to take steps to prevent contamination at its Michigan plant, and noted a pattern of deficiencies
following inspections dating back to 2019.
Trade angles.
The American baby formula market, for regulatory reasons and due to recent trade agreements, is relatively shut off from other countries, which is helping drive the product shortage in the US. The conservative Cato Institute looked in particular at the
effect of the US-Mexico-Canada trade agreement
, which restricted imports of formula from Canada.
Protection angles. The government bureaucracy's effort to protect babies, paired with tons of regulation and restriction on formula from other countries, has made adjusting to the shortage nearly impossible for many families.
The Biden administration is defending the FDA as Republicans seek to cast blame. The FDA's stringent requirements for formula mean that even formula from Europe, which has its own standards, often cannot be sold in the US.
Now, you knew it was coming … politics angles. Senate Minority Leader Mitch McConnell was among the Republicans to blame President Joe Biden for the shortage.
"This problem has been developing in slow motion for several months now, but the Biden Administration has been characteristically sluggish and halting in response,"
McConnell said in a statement
on Wednesday.
It is a shift for Republicans, normally arguing for less government intervention, to now be criticizing the White House for being slow to intervene.
Biden spoke with baby formula retailers and manufacturers on Thursday, and afterward White House officials described
limited steps
it could take, including increasing imports and looking for ways to cut administrative red tape. Details to follow, officials said.
This is the tradeoff. The federal regulators Americans expect to keep products safe also need to keep them available, White House press secretary Jen Psaki acknowledged this week.
She said the FDA is working with formula manufacturers to ensure their increased production, ease supply lines and get formula to those who need it most. But they won't be rushing things, she said.
"I'd go back to why this decision was made in the first place, which was to save babies' lives," Psaki told reporters on Thursday. "And the FDA is not going to approve manufacturing again unless they are certain of the safety."
But she had no concrete answers for parents running out of formula.
And no, there does not appear to be a strategic national reserve of baby formula like there is for personal protective equipment or petroleum.
Desperate searches. None of what's above is going to make Darice Browning feel any better. She's the Oceanside, California, woman who appeared on HLN's "Morning Express" on Wednesday to explain how her children, both of whom have severe allergies to dairy, will get the formula they need.
Browning said she's ignoring the FDA warnings and giving her kids EleCare infant formula, even though it has been recalled by Abbott.
"It will last maybe two or two-and-a-half weeks," she said. "Everybody is saying you might open these plants back up in six to eight weeks, but I don't have that kind of time. What am I going to do?"