A LOOK BACK | Webb victory advances climb in Denver city politics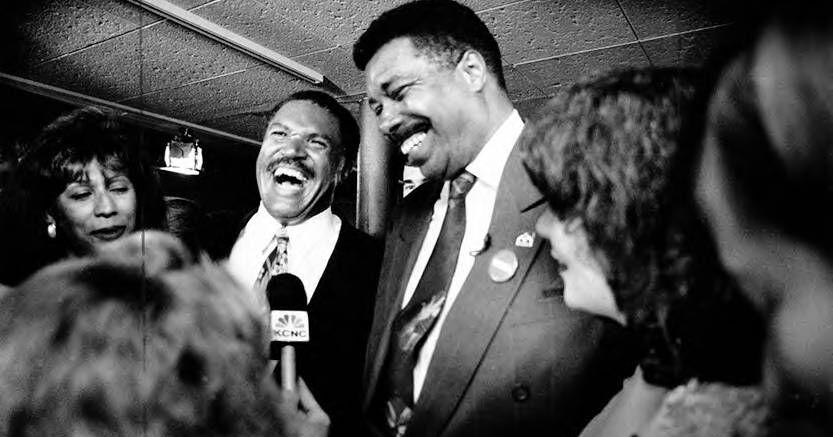 Thirty-Five Years Ago This Week: Wellington Webb's election to Denver auditor, defeating opponent Bill Schroeder, came as a shock to few. The candidate had long been considered the favorite for victory and after claiming nearly 64% of the vote, Webb said his hopefulness had been rewarded.
"I was always optimistic that I had a great opportunity to win, because I felt the people of Denver were looking for a new direction in the auditor's office," Webb told The Colorado Statesman. "My considerable experience in management and politics filled the bill."
Webb said that Denver residents were looking for a new program and felt he was the best to deliver it.
"The auditor shouldn't be a captive of the mayor or the city council," Webb said. "We need an agenda for cooperation … The margin of victory was a mandate that the voters of Denver agreed with the program I outlined in my campaign."
Webb was not only a former Denver legislator but also had served as one of Gov. Dick Lamm's cabinet members. His tenure in the governor's office had earned him considerable support not only from Lamm, but also from Colorado first female member of Congress, U.S. Rep. Pat Schroeder, D-CD1, and the Denver Democratic Central Committee which contributed $2,500 to his campaign.
"I think by virtue of my being on the ballot, it certainly increased turnout in Northeast Denver," Webb said, adding that his presence helped bring out the minority vote. "That's where I live, that's where I was raised, that's the area I represented in the legislature. It's the area my wife represents now, and she's been in office longer than I was in the legislature. By virtue of the Webb name being on the ballot, it increased voter turnout, and increased interest in the mayoral election as well as the auditor's election."
The running of the auditor's office was going to be very different, Webb stressed, than under his predecessor Mike Licht. Webb promised to solve issues quickly before they grew to outsized proportions and to simplify and synchronize accounting systems between the mayor and auditor's office.
"They'll be able to compare apples to apples and oranges to oranges," Webb asserted.
With so much work to be done reforming the Auditor's office, Webb said he didn't harbor any ambitions for the mayor's office.
"I did in 1983," he said. "However, I'm just concerned with getting sworn in … I attempted to serve the people of Denver and I am very pleased they have selected me for this job. My only ambition is to be the best city auditor that Denver's ever had."
Twenty-Five Years Ago: The Colorado American Constitution Party, an affiliate of the U.S. Taxpayer Party, which marketed itself as the headquarters for morality and family values in state politics, called on their members to boycott Disney and its products.
ACP State Chairman Tim Leonard and Vice-Chairman Leslie Hanks announced their support of the Southern Baptist Convention's resolution to "refrain from patronizing the Disney company and any of its related entities."
The SBC and ACP made their announcement following the Disney Company's decision to extend family benefits to homosexual employees.
"The Southern Baptist leaders are encouraging their members to act in a manner consistent with their consciences," Leonard said. "The management of the Disney Company is making a concerted effort to use the reputation of the company to promote immoral behavior diametrically opposed to building strong families and stable societies."
Hanks called upon stockholders to "divest themselves of the immoral profits" and argued that "only a reduction in the company's revenue stream would alter its behavior."
Rachael Wright is the author of the Captain Savva Mystery series, with degrees in Political Science and History from Colorado Mesa University and is a contributing writer to Colorado Politics and The Gazette.