5 things to watch as New York lawmakers enter final week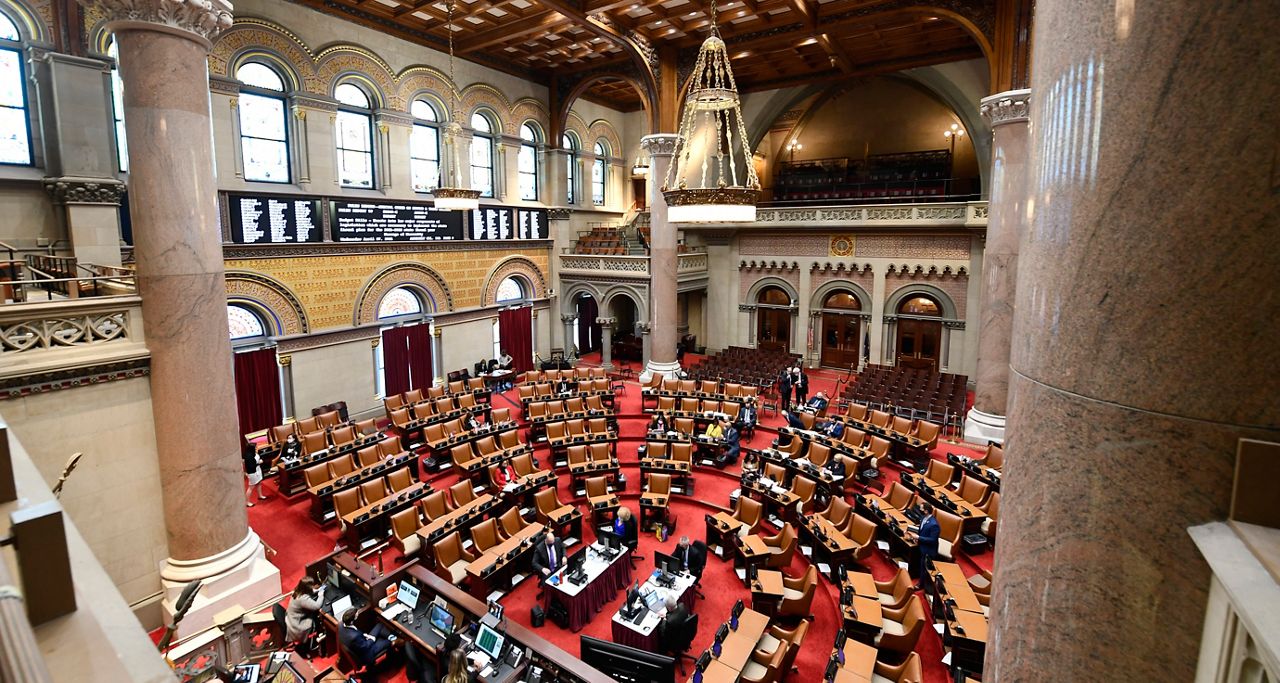 New York legislators are set to conclude their 2022 session on Thursday, likely departing Albany for the rest of the year as they turn their focus to running for re-election, or some cases a new office.
But before voters cast their ballots, there are still a slew of issues for the Legislature as well as Gov. Kathy Hochul to tackle.
Polarizing issues brought to the forefront by national events, a pending Supreme Court ruling and two mass shootings, have led Hochul and lawmakers to make plans for state-level responses.
Here are five issues to watch before the session ends this week.
1. Repsonding to Roe v. Wade
Less than a month ago, a leaked draft of a Supreme Court opinion overturning the landmark Roe v. Wade decision burst into the headlines. Republican states prepared for the decision to be overturned, triggering laws that would restrict or outlaw abortion as a result.
In New York and other Democratic-leaning states, the opposite moves went into effect. Lawmakers and Hochul began to discuss ways of expanding and guaranteeing access to abortion services, including funding for women in states where the procedure is outlawed to travel to New York.
The Legislature this week is expected to give first passage to a constitutional amendment enshrining abortion rights (the amendment must be approved again next year and then be put to voters in a referendum before it is approved). At the same time, lawmakers are calling for a fund within the Department of Health to provide funding for abortion access and other realted services.
Opponents of abortion have been cautiously optimistic the Supreme Court will overturn Roe, but have also said access won't change in New York, calling such moves political posturing. The New York Catholic Conference, too, has decried the effort, adding the focus should be on aiding families.
2. Gun control
Before Buffalo and before Uvalde, Hochul had signaled she wanted to do more tackle the flow of illegal guns into New York, which make up the majority of crimes in the state involving a firearm.
But after massacres at an elementary school and supermarket, Hochul has called for further action addressing gun violence. She wants to raise the age to purchase "at minimum" AR-15-style weapons and potentially semiautomatics from 18 to 21. She has called for tightening the red flag in New York, which requires people deemed to be a danger to themselves or others not have access to guns.
And the governor wants to enact a microstamping law for pistols, a measure that had stalled more than a decade ago in the Legislature.
Passing new gun laws in New York, a state with already strict meaures in place, won't be a heavy lift. Democrats hold supermajorities in both chambers.
It's not clear what, if any measures lawmakers will take up to further address gun violence on the streets. Crime and public safety have been raised as a top concern by voters in nearly every public opinion poll in recent weeks.
3. Mayoral control in New York City
It's been a bumpy first five months for the new mayor of the state's largest and most powerful city. Mayor Eric Adams had touted his ties to Albany, pointing to his tenure as a state senator from Brooklyn as evidence he can navigate a Byzantine state government that has stymied his predecessors.
And there's been some successes: Adams has a deal in hand for turning speed cameras on for 24 hours a day. An extension for mayoral control of New York City schools, though, has remained elusive.
Some Democratic lawmakers are proposing only a year for Adams as well as changes to how the administration of schools is done.
4. Affordable housing
The governor has said she wants to take on affordable housing issues in New York statewide before lawmakers leave town. Broadly, it's an issue afflciting low and increasingly middle income New Yorkers given rising rents post pandemic and the tight housing supply.
More narrowly, Hochul is trying win passage of an extension of a tax break for developers known as 421-a. Democratic lawmakers have not been inclined to take it up, and Hochul in recent weeks has indicated she is ready to review the issue next year.
5. Electric buildings
Advocates for addressing climate change have for the last several weeks urged lawmakers to take more aggressive steps on the issue. That includes taking up legislation to transition New York's new construction away from gas hookups to electric buildings.
Debate over the measure highlights the complexities of switching New York to more renewable and cleaner forms of fuel in the coming decades as is now required by law.
A post-session return?
What could bring lawmakers back to Albany later this summer? Typically, the Legislature is loathe to come back while also running for re-election. It's been complicated even further this year by a split primary season due to the redistricting legal challenges: the state Assembly and statewide races will be held on June 28; state Senate and Congress primaries will be held on Aug. 23.
Hochul has said if New York's conceal carry law is struck down at the Supreme Court level, however, she would call the Legislature back to Albany to take up legislation in response.